This post is about how to start an invitation business – specifically, starting a wedding invitation business! You can use these tips and tricks for any type of invitation business, but they are geared toward wedding invitations.
When I started an invitation business, I had to go through a lot of trial and error finding printers, learning about paper, teaching myself wedding invitation design, and so much more! But luckily, I can teach you how to start an invitation business without as much of that trial and error! Now, my company makes over $150,000 a year, and I can help you build a successful invitation business too!
I have tons of more in-depth resources and a membership community just for wedding invitation designers – Stationery School – with monthly courses to continue your stationery education.
This post will be a general overview of your best tricks for starting a wedding invitation business, but I'll link several YouTube videos, blogs, and other resources that you can check out to dive into these topics further. Some links here may be affiliate links, but everything mentioned here is a resource that I personally use in my invitation business and fully endorse.
First things first – here's a video overview that runs down some of the main starting points (but keep scrolling if you prefer to read).
Why Start an Invitation Business?
So you're thinking about starting an invitation business! That's awesome! What are the best things about running an invitation business?
Working for yourself! Having a flexible schedule and authority over my own success is really motivating for me.
Creating beautiful wedding invitations. Of course, the next best part of the job is all the beautiful things you get to create
Working with weddings. I started in this industry as a wedding planner, and even though I didn't end up planning long-term, I couldn't leave an industry that is so fun, creative, and unique! I thoroughly enjoy being a part of my clients' big events, and getting to know them during such a special time in their lives! Plus, it's just easy to have fun celebrating love all the time!!!
Now that I've convinced you that it's a great idea to start a wedding stationery business – what do you need to know?
What do you Need to Start an Invitation Business?
There are a few things you'll need to start an invitation business. To be fair, I started my invitation business with very few of these and learned as I went. It's very possible to be self-taught in this industry, and a lot of stationery designers are. So here are a few things you'll need to know:
Graphic Design for Wedding Invitations
Well of course you'll need to know Graphic Design. The most common question people ask me is if I handwrite or hand paint every invitation and the answer is a HARD no. I would do it, but the client would have to pay me a lot of money! Most clients need around 100 invitation sets – or as we call them, invitation suites. So it's much easier, faster, and more cost-effective to design one invitation set and print it 100 times. For this, you'll need to learn some design programs.
The best programs for invitation design are the programs in the Adobe Creative Suite. I personally use Adobe Illustrator for most of my invite design and use Adobe InDesign and Adobe Photoshop for other parts of the design process. Other designers do all their work in Adobe InDesign. Yes, you can use other programs (like Procreate on the iPad), but using the industry standard will help you solve any troubleshooting issues, and there are a ton of courses out there on how to design with Adobe programs! Check out some of my Adobe tutorials on YouTube!
I've got a free course on Invitation Composition + Layout that applies graphic design principles to wedding invitations to show what different wedding invitation layouts say about your piece. Check it out!
Etiquette for Wedding Invitations
A lot of people think wedding invitations are just pretty – but they serve a functional purpose as well. You'll want to become familiar with traditional wedding invitation etiquette and wording to make sure your invitation designs serve that purpose for your clients. Emily Post is the expert on all things wording and etiquette related, so I always defer to her website if I have questions. Here's a blog post addressing some common wording for wedding invitations.
Paper for Wedding Invitations
After you design the most beautiful invites, what are you going to print them on? I bet you'd be surprised to learn how many different options there are when it comes to wedding invitation paper! Even just trying to get something simple and white provides a plethora of different options. My favorite invitation papers fall into 3 main categories:
Smooth paper – most cost-effective, and a best for photo printing
Cotton paper – more luxurious, but also more expensive
Eggshell paper – a nice middle-ground with a little texture (almost anything you've seen of mine was likely printed on eggshell paper)
You might thing eggshell is a color…but in fact, it's a finish! A finish refers to the feel of the paper, to put it simply. Kind of like how corduroy, suede, and cotton are all fabric types, you can think of paper finishes in a similar way.
Luxury invitation papers are also measured in a unique way. In the US, we use pounds (#), and elsewhere, you might see GSM used to measure paper. In general, I would use 250gsm or 100# or higher stock for wedding invitations. My house stock is 120#, which is about 300gsm.
I love to buy paper and envelopes from this shop! Learn more about wedding invitation papers in this video:
Printing Wedding Invitations
Printing wedding invitations is, in my opinion, the toughest part of the job. Learning how to print is definitely the toughest part of starting an invitation business, unless you have previous print experience.
There are 3 main print methods used for printing wedding invitations:
Digital Printing – This is basically what you think of as printing! All colors are available, it feels flat (and is sometimes called flat printing) and is the most cost effective option.
Foil Stamping – We typically see this with gold foil and it's nice and shiny! That's not the only color foil though. Foil stamping can be done with lots of metallic colors, holographic colors, and even matte colors. It's a great option for a really opaque white print on dark paper. It's a luxury print method, and will give you a beautiful indent into the paper. Watch the video below for a better run-down!
Letterpress Printing – Letterpress printing is like foil stamping, but with ink instead of a foil sheet. It's available in any ink color that can be mixed, but not shiny metallic colors. More info provided in the video below on this as well.
If you're just about to start an invitation business, I'd highly recommend exploring digital printing to start as it's the most cost effective and it's easy to play with! The sky is the limit design-wise (pretty much). You can play with fun colors, use watercolor designs, even print what's called a "bleed" which is where your design runs off the edges of the paper. Check out this cool holographic effect I was able to get with digital printing on white paper!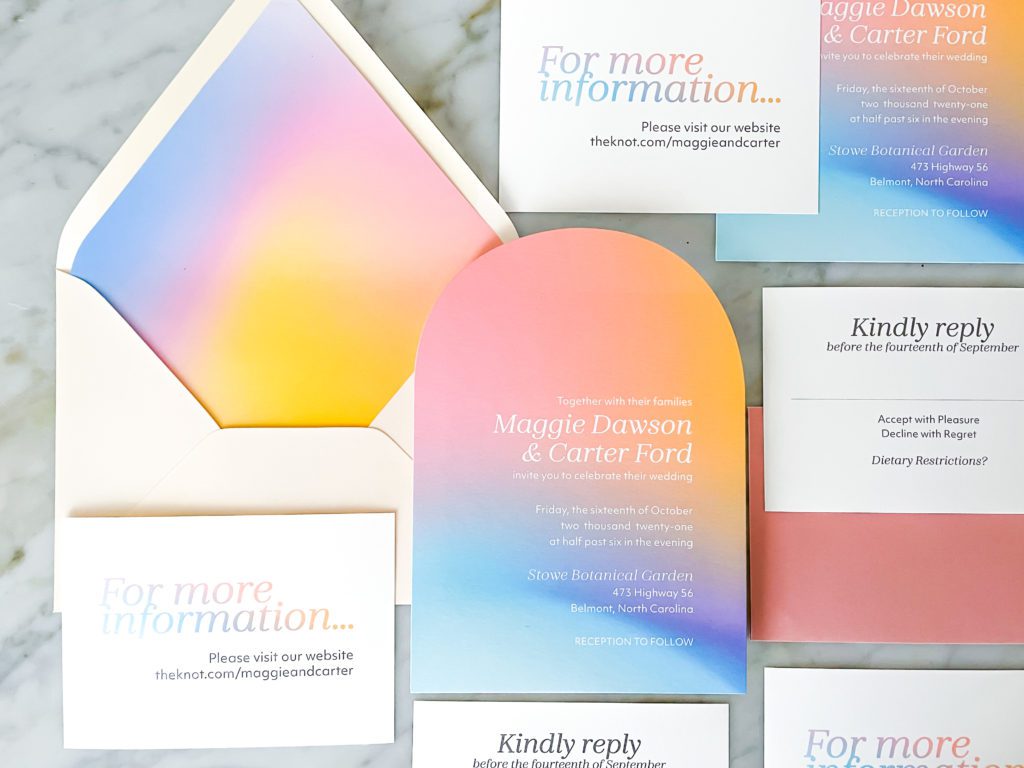 Where to Print Wedding Invitations
A lot of people start an invitation business and try to print all of their invites in-house! I constantly get asked about which printers I use for invitations. Here's the thing – I don't print most of my work in-house. I outsource about 90-95% of all my printing and only print stationery in-house when I absolutely have to.
There are a lot of reasons for this but it mostly comes down to one thing: I want to be a designer, not a printer. I don't want to spend my time doing print adjustments and checking ink levels. That's not what I enjoy about my business. But if it's what you want to do, then go for it! A lot of people enjoy that it's generally cheaper to print in-house, and you can have your invitations more on your schedule if you don't rely on outside vendors. For the record, the two printers I have are this inkjet printer and this laser printer. Both are out of production now, so they're more expensive than some newer models. This article is a full review of the laser printer and how I use it for white ink printing!
The truth is that there are people being successful printing in-house and some (like me) being successful outsourcing. Your decision will depend on the quantity you need to print, the size of your space, and your costs!
Printers for Wedding Invitations
So if you do want to outsource, what are some good printers for wedding invitations?
Two common invitation printshops are PrintsWell Fulfillment and StationeryHQ. Both of these printshops offer a large variety of paper options and cater to invitation businesses, so they're perfect for starting out! Both of them offer a minimum print quantity of 10, so it's perfect for printing samples and practice invitation designs.
I also find it valuable to have a local stationery printer on deck, for rush jobs or things that need more of a hands-on production process. I'd simply recommend Google-ing stationery printers in your area, and find one that's willing to chat and show you samples of their work and process.
Want the inside scoop on the printers and suppliers I use? Get our curated Print + Paper Vendor Guide with over $200 of exclusive discounts included!
Mailing Wedding Invitations
The last key element to starting an invitation business is knowing how to mail wedding invitations. Even if you're not mailing invites for your clients, you still need to guide them through the process and understand how to design wedding invitations that will mail well.
I'd recommend checking out the guidelines on the USPS website for mailing letters. Most of our wedding invitations will fit into the letter category, although some things require additional postage, for instance:
Unusual size or shape requires an additional $0.20 (all prices as of writing this post, and subject to change)
Each extra ounce of weight requires an additional $0.20
A wax seal or thick box will require a "non-machineable surcharge" of $0.20 as well
There are some design mistakes you could make as well! For instance, if the return address is on the flap side of your envelope (as it generally is for wedding invitations) there's always a chance it can get read as the recipient address and all of the invitations will be returned to the sender. That's not what we want. So we always make the return address small and high up on the flap so there's no chance of that confusion our clients when mailing invites! This video gives a few more tips as well:
Stationery Business Startup Costs
Now that you know how to make wedding invites, let's get down to the numbers! How much does it cost to start a stationery business? The truth is – not that much!
If you want to print in-house, you'll have to invest in a printer or two. But that's not required, and you can definitely start by outsourcing your printing.
You'll likely want to purchase a license to the Adobe Creative Cloud, and I would recommend also purchasing your business domain. Your business will likely have some registration fees in your county, and of course you'll need a laptop of some sort! That's about it. If you already have a laptop, you could likely get started for around $100.
Of course, that's just the absolute necessities. I definitely think you'll want some samples of your work, and that can cost money. The two printers I listed above won't charge too much to print some samples, so that isn't a lot more. And lastly, it might seem costly at first, but you'll want a solid contract for your invitation business by the time you work on your first paid project! This will protect you (and your clients) in case there are any issues, and it feels REALLY good to have your policies outlined too. There are 3 main options when it comes to creating a wedding invitation contract:
Hire a lawyer to do it from scratch
Purchase a pre-made contract template – I would recommend either The Contract Shop or The Creative Law Shop (use code CARLANE for 10% off)
Write one yourself and hire a lawyer to review/correct it
The last 2 options will cost you about the same, and I'd budget around $300-$500 for that! Sure it seems like a lot at the beginning, but you'll get countless value back and can continue to update one single contract for the next several years of your business.
Overall, it's not a huge investment compared to a lot of businesses! Many people start a stationery business with very little investment, and you can continue to invest in things like client management systems, new equipment, and education as you grow!
Is a Stationery Business Profitable?
With that investment info, I know you're wondering – is a stationery business profitable? In my opinion, absolutely. My business profits about 60% of revenue each year, although it fluctuates some. I wrote a longer post about Stationery Business Profit Margins for you if you want to take a look.
There's a lot that goes into pricing your wedding invitations, but generally there's about a 2.5-3x markup on products. Most designers also charge a flat or hourly rate for design time, so you're covering your product margins as well as the time spent on the "service" side of the business.
If you keep track of your numbers and know how to price your work, you can definitely create a profitable stationery business. Let's talk about pricing your wedding invitations next!
Pricing your Stationery
Of course, I have a full course on stationery pricing. But to start out, I just want to make sure you cover your time and your costs. Typically your direct costs (the cost for paper, envelopes, and printing) will have a 2.5-3x markup. Then you'll charge a "design fee" and potentially an "assembly fee" for your time to design and assemble the wedding invitations.
These fees are generally based on an hourly rate, and the amount of hours it takes you to design a wedding invitation suite. My design fee starts at $1,200 for a custom wedding invitation suite, and increases the more pieces or the more complex artwork the clients want. If the client chooses one of my pre-designed suites in my Etsy shop, they don't have to pay a design fee!
Many invitation designers start looking at pricing on Etsy, and are surprised to see how cheap some people sell their invitations. This could be for a number of reasons, but in general you should create pricing based on your own numbers, not by looking at the competition! There will always be someone cheaper than you, and there will always be clients that are willing to pay more than the lowest possible price…so let's get into marketing tips!
More Pricing Tips for Stationery Designers!
Marketing your Wedding Invitation Business
Marketing is a tough nut to crack no matter what industry you're in. The wedding industry is no different. But you can easily set yourself apart by understanding your ideal client profile.
What's an Ideal Client Profile? That's a basic profile of the client that you're trying to attract! There's a free worksheet you can use to nail that down on the Ideal Client page! Basically, it's imagining who your client is, what they act like, how they think, and what helps them make purchasing decisions.
If you can figure out where your ideal client will be looking for wedding invitations – you can speak directly to them on that platform! I personally get most of my clients via networking with wedding planners, Instagram, and Search Engine Optimization. Search any of those topics on my YouTube channel and you'll find some more tips.
Most stationery designers are trying to attract well…anyone engaged. So their messaging has to be really vague and fit with well…basically everyone. That's not a strong message. Think of the difference between the message that Coca Cola presents (it's basically that Coke is good, we're fun and hip, and that's about it) vs. the message that Dos Equis puts out (the most interesting man in the world!). They're very different – one is trying to speak to everyone, and one is trying to speak to a certain subset of the population so their messaging can be more specific. As a small business owner, you'll have more luck speaking specifically to a smaller subset of the population than trying to speak to everyone.
I also highly recommend creating the "ideal" work that you want to create, instead of waiting for that work to come along. Not only will it help you improve your print and production skills, but it'll give you a portfolio that your ideal client is attracted to!
Where should you share that portfolio? Well…wherever your Ideal Client is spending time! If that person does charity work, you should do charity work. If that person hires a wedding planner, you should be reaching out to wedding planners.
I do recommend creating a website to showcase your work and let people contact you – here's a video showing you what things you need on your first website to keep it really simple, yet effective. I used Squarespace for my first website, which is a good platform for beginner designers. Having a website will make you look professional and give your clients something to look at when they search you!
Next Steps to Start an Invitation Business…
What's the next step after you've gotten started? I think that's all based on the goals for your business! I hope you'll check out some more of our resources and/or join Stationery School for a community of like-minded stationers and courses from me every month! The number one tip I have for you is to just jump right in and start creating the type of wedding invitations you want in your business – even if no one's paying you for them yet. Practice makes perfect, and it also helps you get more clients!