White ink printer review updated 4/23/21
Are you jumping with excitement about this white ink printer? I can't stop staring at my new baby – the HP LaserJet M452DW ! It's my first ever laser printer, and is already WOW-ing me. I promised y'all some more information, and you know I love to share about new tools for stationery designers, so buckle up, there's a lot of info coming at you in this white ink printer review!
If you're a wedding invitation designer, make sure you check out our Stationery-specific membership, Stationery School for a lot more info on starting a stationery business!
Why buy the HP Laserjet m452dw?
I had been considering this laser printer for a while, due to its white ink printing capabilities, which I'm very pumped about. The reason that made me finally move it out of my "Saved for Later" section, however, was actually something else.
I was printing a large custom illustration on vellum on my Canon Pixma Pro 100 – an inkjet printer – and the ink took a long time to dry. So instead of pulling my hair out with the Pixma, I went ahead and pulled the trigger on the LaserJet, knowing that laser toner doesn't even have the capability to smear.
My Reasons to Purchase this White Ink Printer were:
White Ink Invitation Printing

Vellum Printing without Smearing

4Bar Envelope Printing

Crisp Black Printing

Printing on Metallic Paper
Initial Thoughts on The HP LaserJet
It's been easy so far! I took it out of the box, and it's ready to go. Wi-Fi setup was the easiest of any printer I've ever had. I have had to run several cleaning pages – more than I expected to – but those always clear up the issue. It's also significantly faster than my Pixma, for instance I printed 150 of those vellum wraps in about 15-20 minutes. If you have the Pixma, you'll know that that's a miracle comparatively!
Update 4/23/21: I still enjoy the setup, and ease of use on this white ink printer. It works well when printing invitations, printing on vellum, and printing in color! My favorite part about it is still the speed.
White Ink Printing In-House
Okay, so I know you're all here for the White Ink Printing Tutorial! It turns out – it's so easy. Most white printers cost somewhere in the $10k+ range, so this baby is actually not a white printer, it's a little workaround!
You get a laser printer that's compatible with the Ghost Toner (maybe this one I got, but there's a whole host of others listed here), and you replace the black toner with a Ghost White toner cartridge whenever you want to print white instead. For the record, this is sold separately and is about $350! I bought this one here.
So the total investment is about $600 for the white printing capability. Whatever you do, don't touch the rollers while you're switching it out, and keep whichever cartridge you aren't using safe and secure in a dark place (or a box. I keep mine in a box).
Update 4/23/21: I have purchased a total of 2 Ghost Toner cartridges since purchasing this stationery printer in July 2019. In July 2020 it started saying that the cartridges were low, so I purchased more (color and Ghost Toner). But I haven't switched out the color toner cartridges and my color prints and white ink prints are still looking fine.
You'll then basically trick the printer into printing white, by printing in all Black, 100% K. So whatever design you want in white, make sure your color swatch says 100% K, and doesn't have other colors in it. It'll show up black on screen (which is good, because otherwise you couldn't see it on a white background!).
When you go to your print settings, you'll check the box that says "Print in Grayscale" which only allows the black cartridge to be used. So the printer will actually use the Ghost Toner, thinking that it's black, and voila! You'll be printing in white ink!
I tried several types of paper, and as expected, found out that the white shows up best on smoother paper. This pink is basically the smoothest invitation paper on the market, and it worked the best. The black was slightly better than the green, which wasn't quiiite as opaque as I'd hoped, but still lovely!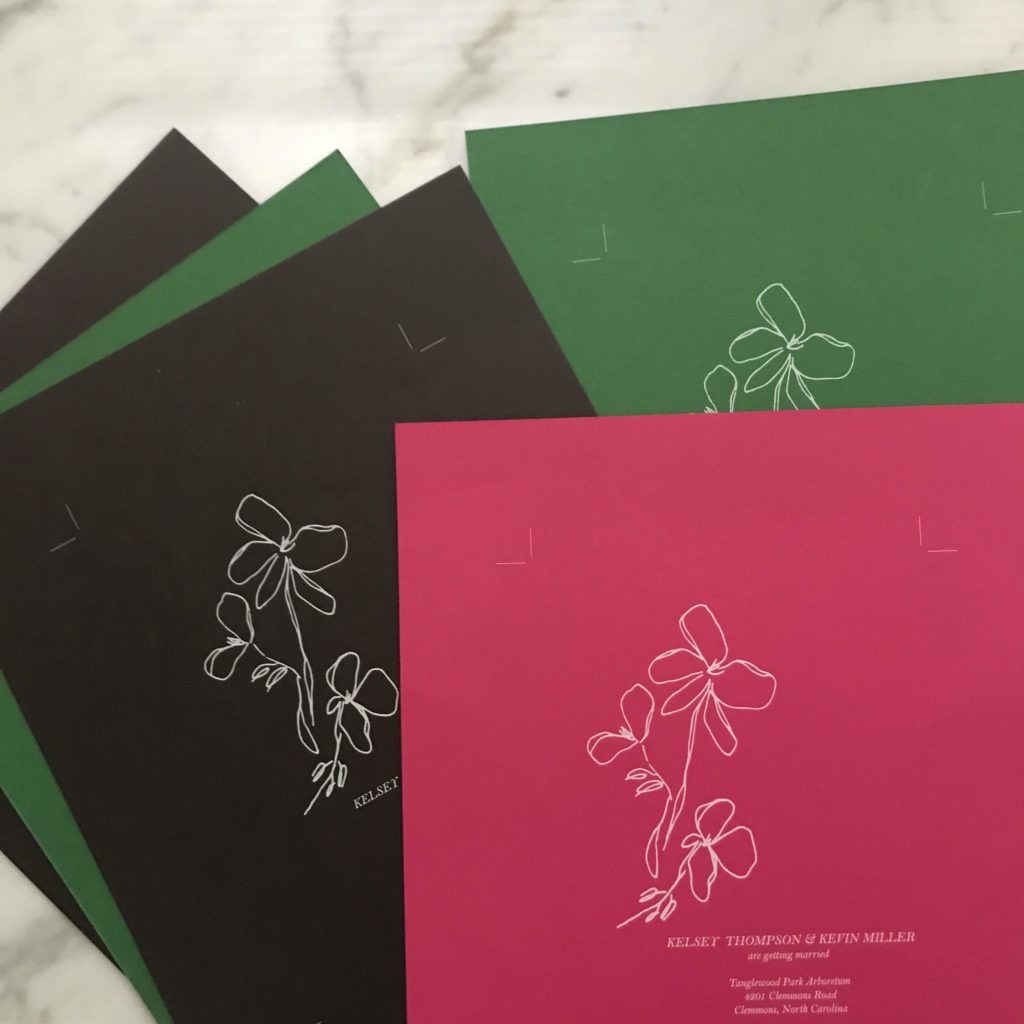 And of course, I tried envelopes! We'll chat about those in a second…but know that the white ink was perfect on them as well.
If you're still learning about wedding invitation papers, check out this video:
Can you Print White Ink on Envelopes?
Did you know I teach a whole course on envelope printing? You can access it here!
This is another huge point! And the answer is yes – with caveats. It prints 4bar sized envelopes better than the Pixma (not hard to do, tbh!), and A7s as well (it prints other sizes, but that's all I've tried).
The caveat here is that you cannot print open-flap envelopes, so if you're doing return addresses AND guest addresses, you have to run them twice. But like I mentioned, this printer is about 826x faster than the Pixma inkjet printer so that's not a huge deal. And I'll repeat that part because it's important – do not put open flap envelopes in a laser printer! The adhesive will ruin it (thanks Carley for telling me in time!). I put a giant note on it to remind alllll of us in the studio.
This printer specifically does have duplex printing features, but I haven't figured out a simple way to make that work with my files (adding the return address on every other page for the entire file…) so I haven't tested that feature with envelopes. Tips on that would be very welcome! Duplexing works great on paper though, and if you're not into duplexing, there's the same model without duplexing for about $30 less.
Another thing about envelopes is that with this printer, you have to run them only a couple at a time. And I've found that if you let the ones in the tray run without putting new ones in, that there are looooong pauses between each set of 4-5.
So I have chosen to stand by it and feed new ones in with the natural printing rhythm. It's a little tedious – but this is another place where the higher speed makes things not so bad.
How's the White Ink Printer Quality?
Great. No caveats here. I don't plan to do any/much high-color printing in-house, but I tested it to be sure and it came out well! Honestly, this printer handles colors really well, still 2+ years later! As expected, the black printing and text printing quality is noticeably crisper than my other printer as well.
For the inkjet printer, I generally print on High Quality mode to get really crisp black lines when printing stationery at home. High quality printing this way takes a long time (and a lot of ink). For this laser printer, you don't have to do that – everything is a bit more crisp, but it's especially noticeable on text and in black elements.
This Printer Sounds Too Good to Be True!
Well, of course there are some downsides to this white ink printer as well:
Cleaning
It's nice that this printer has a self-cleaning feature, but I definitely did not expect it to need that as much as it has so far. I have had to run a cleaning page pretty much every time I've turned it on after being off for a bit, and after switching the cartridges (although it says it cleans when you switch a cartridge, that hasn't been my experience).
Update 4/23/21: This printer still needs to be cleaned when you switch from white to black cartridge and vice versa, but it's not as necessary as at the beginning!
Small Feed Tray for Envelopes
Like I mentioned, you can only fit about 3-5 envelopes in at a time. The feed tray for paper is great though! I rarely print anything in the main flat tray, as it wouldn't work well for thicker paper. But for anything up to about 100# in thickness, the feed tray works well.
Paper Curl after Printing
The paper or envelopes always come out with a little curl on the sides. I have been flattening my pieces with a heavy book. This happens less with thinner paper.
Update 4/23/21: This still happens. It's not as bad, and you can adjust some settings for it, but I like to flatten my pieces after printing still!
Heat
All laser printers use heat. It gets hot, the paper comes out hot. If that bothers you, then that could be an issue – it doesn't bother me that much, honestly.
Jamming
It says it's jammed a little more often than other printers I've used. But then it turns out it's not actually jammed, so you just have to move the paper around and then it's fine. Like all printers, I think this one has PMS sometimes….
Update 4/23/21: The jamming is my number one issue with this printer. It mostly happens when feeding really thick paper (for instance, 120# paper is really tough to get to print. But 100# or less is okay). It's generally pretty easy to fix the jams, and if you get in a good rhythm they happen less.
Envelope Indentations
My number one gripe about this printer is that at this point my envelopes still have indentations on them from the other side of the envelope after running through. I have been informed that this will go away with time – but we're not there yet. I have found the indentations are less if you put the paper setting on "light" paper, but in a few cases, that also seemed to make the toner go in multiple places on the envelope…not sure if this will be the case for ALL of my projects, but at this point, that's where we're at. I am going to test out a few settings, as well as running blank papers through a bunch of times, to see if that loosens things up, and I'll update this post as soon as I have any additional info on this front!
Update 4/23/21: There is still a bit of an indentation on the envelopes. I have received professionally printed with this same indent, so I know it can happen in many cases, no matter what you do. Once I put the invitations into the envelope, I don't see it as much.
Did you get rid of the Pixma Pro 100 when you got the White Ink printer?
At this point, I'm still using the Pixma for A7 envelope jobs, because I can run it through once, my files are easy to set up (since that's what I'm used to) and there are no indentations. I also plan to keep the Pixma for handmade paper, although there are now a few places that print digitally on handmade paper – so I may start outsourcing that. Laser printers can't print on handmade paper because the heat will burn it. The Pixma is a comfort printer at this point, but I could definitely see myself still using it for A7s and I like the idea of having it as a backup no matter what. It was a great starter printer, and it served me well, so I'm not thrilled to get rid of it!
Here's some info on laser printers vs. Inkjet printers:
Update 4/23/21: I still use the Pixma some, but definitely have defaulted to my laser! It's faster and better quality in general, even with the few gripes I have.
Overall, the LaserJet white ink printer has been a great addition to our printer fleet! I think the white ink printing is the part I'm most excited about, although if we can get envelope printing going a little better, that feature will definitely be used the most. Let us know what questions you have down below and I'd be happy to answer them for you about our white ink printer!
As an update – the Ghost toner is expected to be available sometime soon (4/23/21) for the newer model of this white ink printer, the 454 – but it's not available yet.