When it comes to wedding invitations, you can't go wrong with a modern calligraphy font. There are so many great calligraphy and script fonts on the market, that even as a calligrapher myself, I often use calligraphy fonts for my own wedding invitation designs. Today, I'll share some of the best calligraphy fonts for wedding invitations in 2022!
If you'd like some help designing your calligraphy wedding invitations, check out our Semi-Custom Collections (invites start at $5 apiece). I've purchased all of the fonts listed below, as they're my favorite wedding invitation fonts! So you don't have to if you decide to work with us.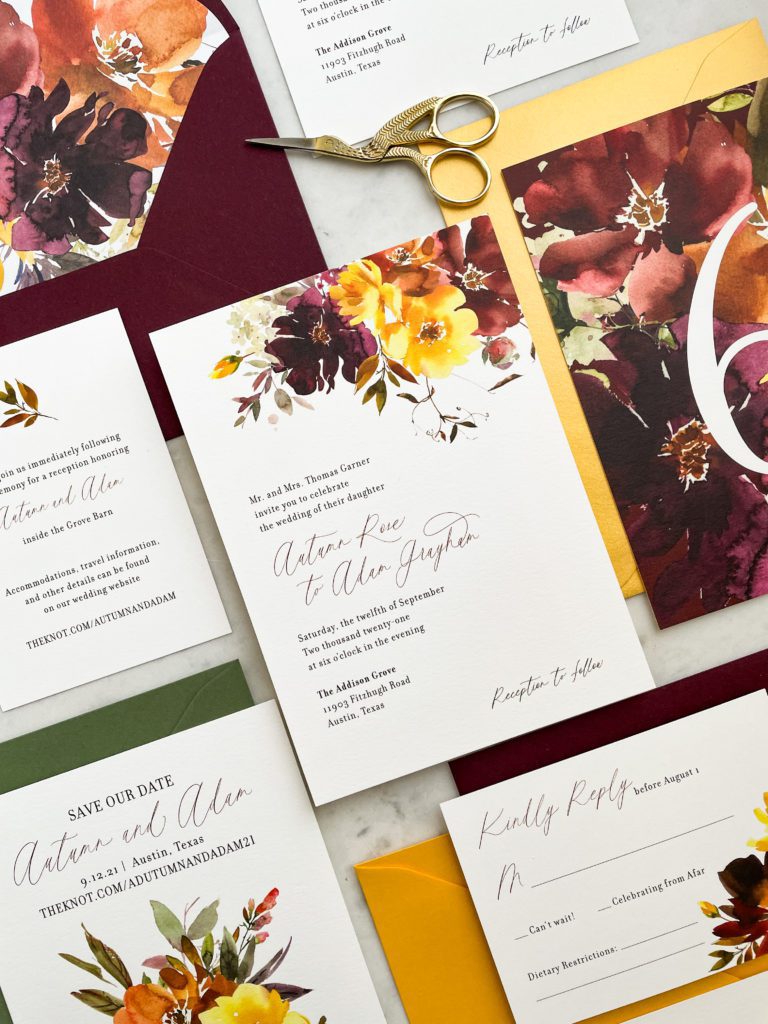 But no matter who is designing your wedding invitations or if you're making DIY invitations, here are some of my favorite modern calligraphy script fonts to use! All of these caligraphy fonts can be used in Microsoft Word, as well as in Adobe invitation design programs like Illustrator and Photoshop.
Melanie Script Font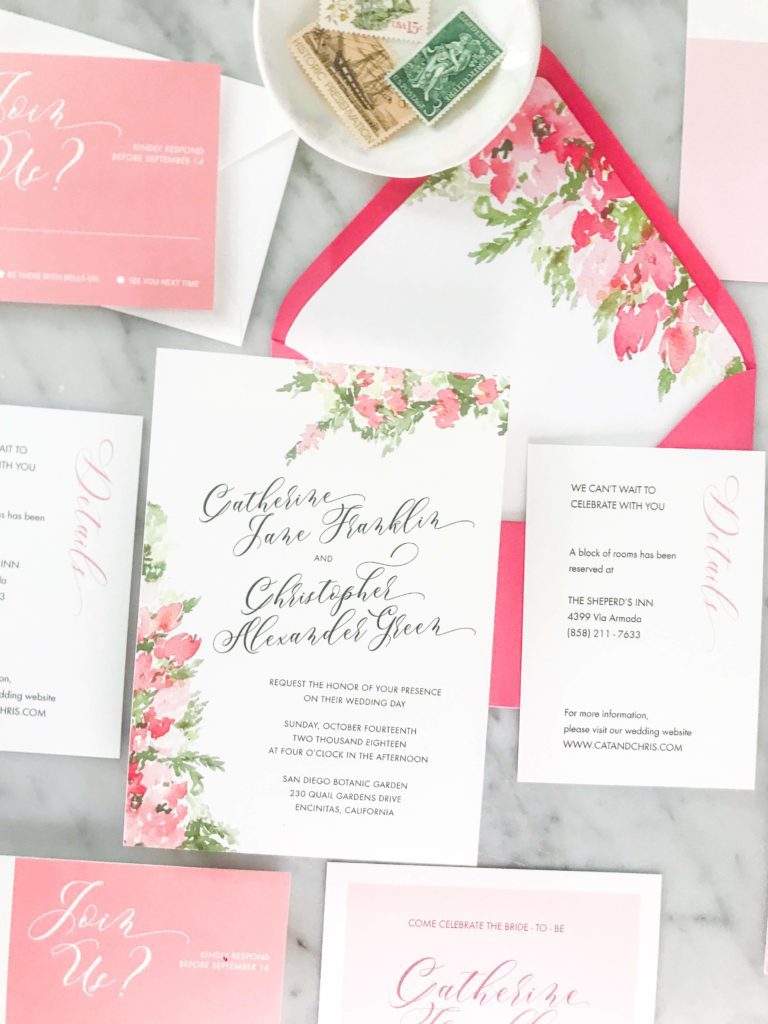 When you're looking for calligraphy fonts for wedding invitations, you should definitely look at Melanie! Melanie is a girly and feminine calligraphy script. It's round in all the right places, and has beautiful contrast between the hairlines and downstrokes. It feels like a bouncy script font, but not to the point where it looks messy or too casual.
Melanie Script font is elegant and can be used for formal wedding invitations or slightly more playful ones. It even has really nice glyphs that you can use (such as the "h" in Christopher in this photo). Melanie font also includes ending swashes that are optional (see how the letters at the end of each word kind of extend?).
Here's a video you may like on How to Use Font Glyphs!
It'll get you started on how to use any of those extra characters, but just be aware that not all characters are available in programs like Microsoft Word, so you may have better luck with a design program (I use the Adobe Creative Cloud, specifically Adobe Illustrator, for my wedding invitation designs).
Melika Script
Melika Script has that really modern, organic font style. It's been around for a while, and never gets old! This is one of the best calligraphy fonts for invitations, because it comes with 6 different letter sets, including beginning and ending swashes. I like a script font with beginning swashes as well as ending swashes, because it makes centering your text easier. My only regret with Melika is that it doesn't come with beginning swashes for capital letters. So if you want your designs to feel centered, go with all lowercase letters like in this blue marble wedding invitation!
Pairing a really organic calligraphy font with a more structured block typeface like this one (Bell MT) is a really lovely contrast for your wedding invitations! Melika Script is also featured in our eucalyptus greenery wedding invitations.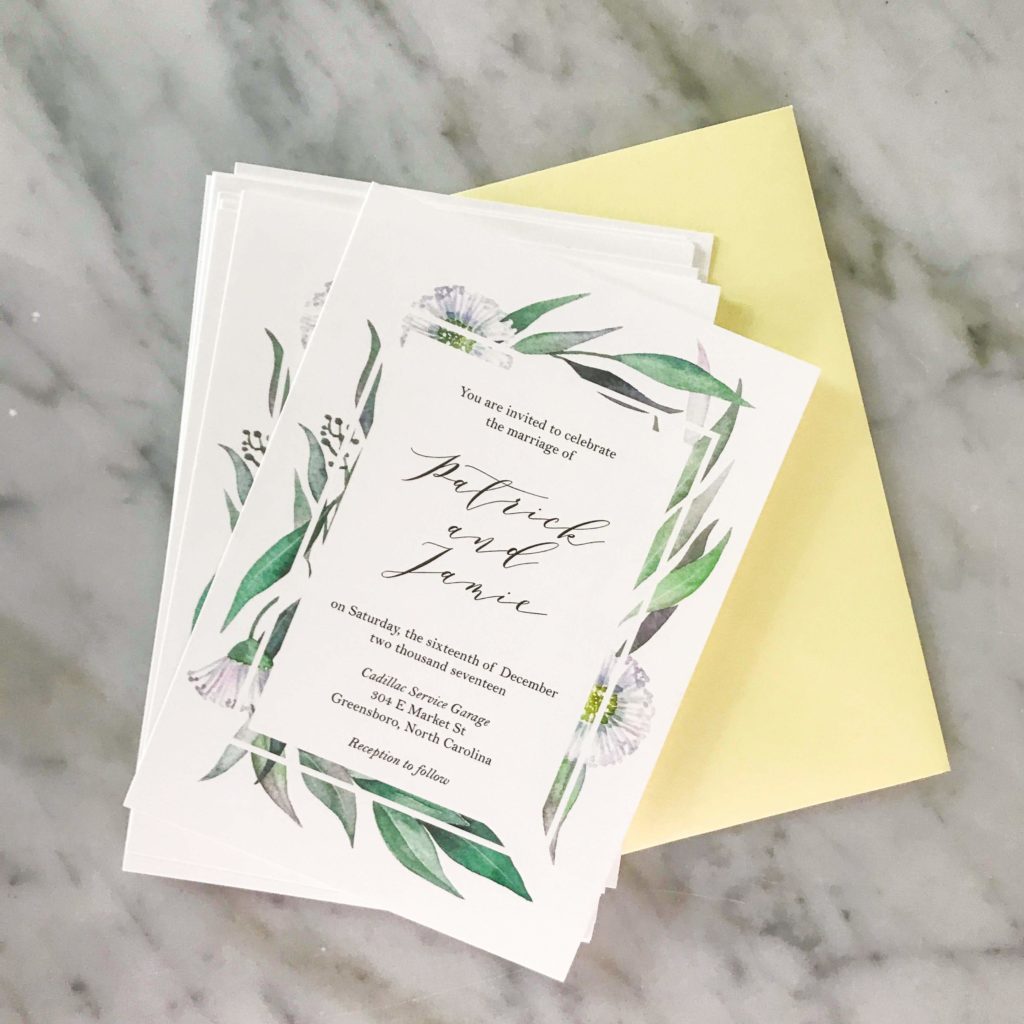 Madina Modern Calligraphy Script
Madina script is one of the best wedding invitation fonts. It's such a modern script font, and comes in 2 styles. One is a brush calligraphy font with rougher edges, and one is more structured. Any wedding invitation featuring Madina Script is sure to wow your guests – this custom watercolor invitation design from a few years ago is still a favorite!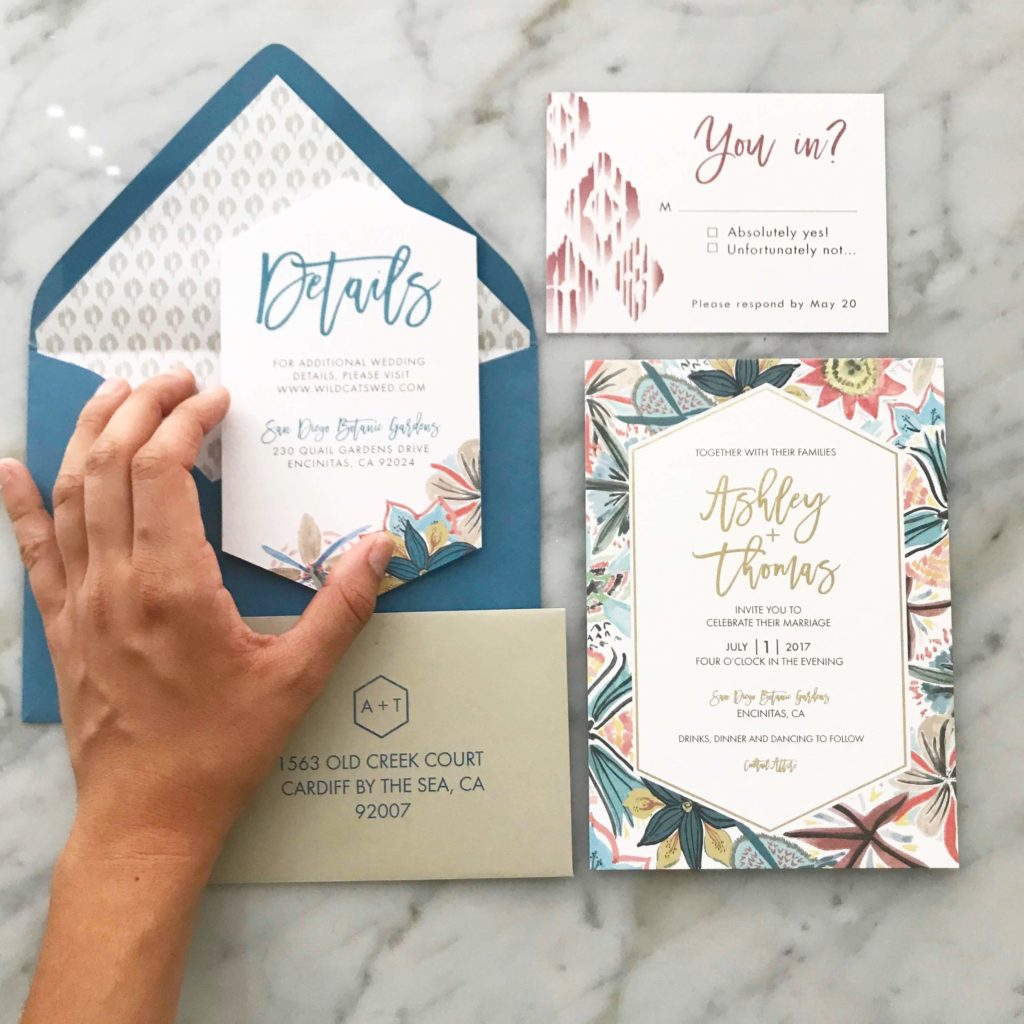 Farmhouse Script Font
Farmhouse Script reminds me of Melanie Script a lot – they both have similar vibes. But Farmhouse is a thinner calligraphy script, and doesn't have as much contrast as Melanie. For this reason, it feels softer and less feminine to me. It's an elegant modern calligraphy font, perfect for wedding invitations of all kinds.
Farmhouse font comes with swashes for the beginning and ending of lowercase letters, like a lot on this list, but not for uppercase letters. It also includes really lovely alternate characters for ascenders and descenders (letters that go up like h, b, etc. and letters that go down like j, g, etc.).
Sapphire Script Modern Calligraphy Font
Okay okay, I may be biased because I designed this wedding invitation font myself. Sapphire Script answers every issue I've had with other modern calligraphy scripts, and truly looks handwritten. There are tons of contextual alternatives, for things like double letters and "th", as well as optional glyphs to use all over the place! I included at least 3 variations of each capital letter, so you can really pick and choose what this modern calligraphy font looks like and give it that truly handwritten feel for your wedding invitations.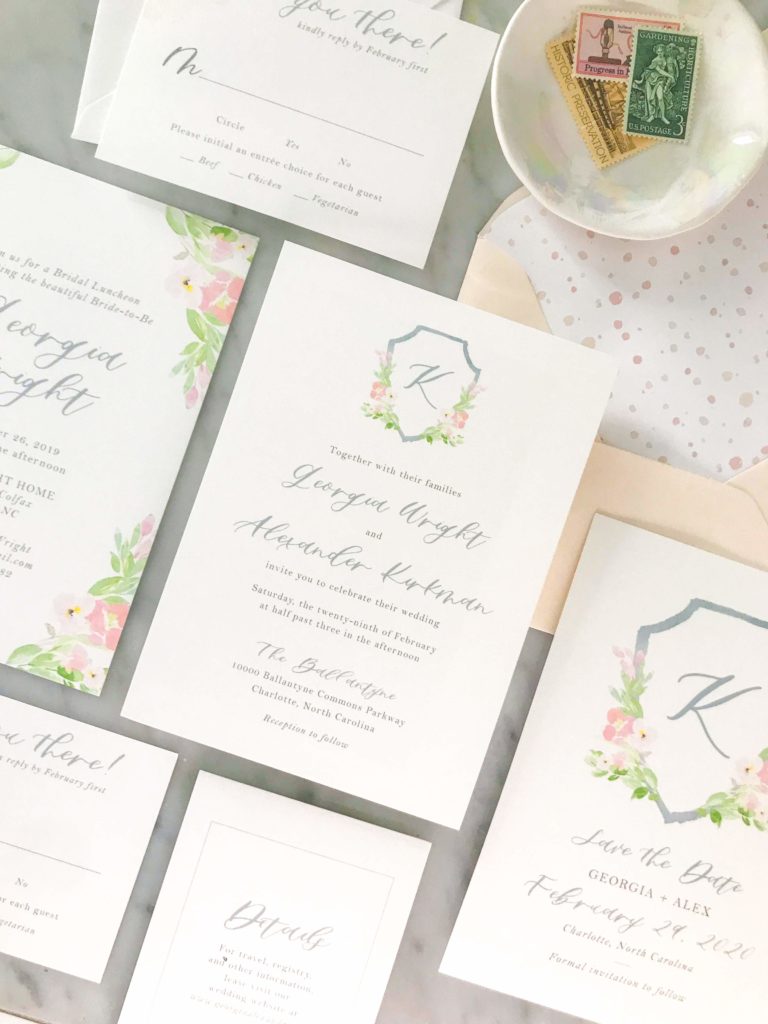 Sapphire Script (named after the street where I met my husband and started my business!) contains Roman Numerals, multiple number sets, over 500 characters, full Western language support, and even some handy words like "to" "and" and "for" that are perfect for wedding invitations. It works well in digital print and is thick enough for letterpress printing or gold foil stamping your wedding invites.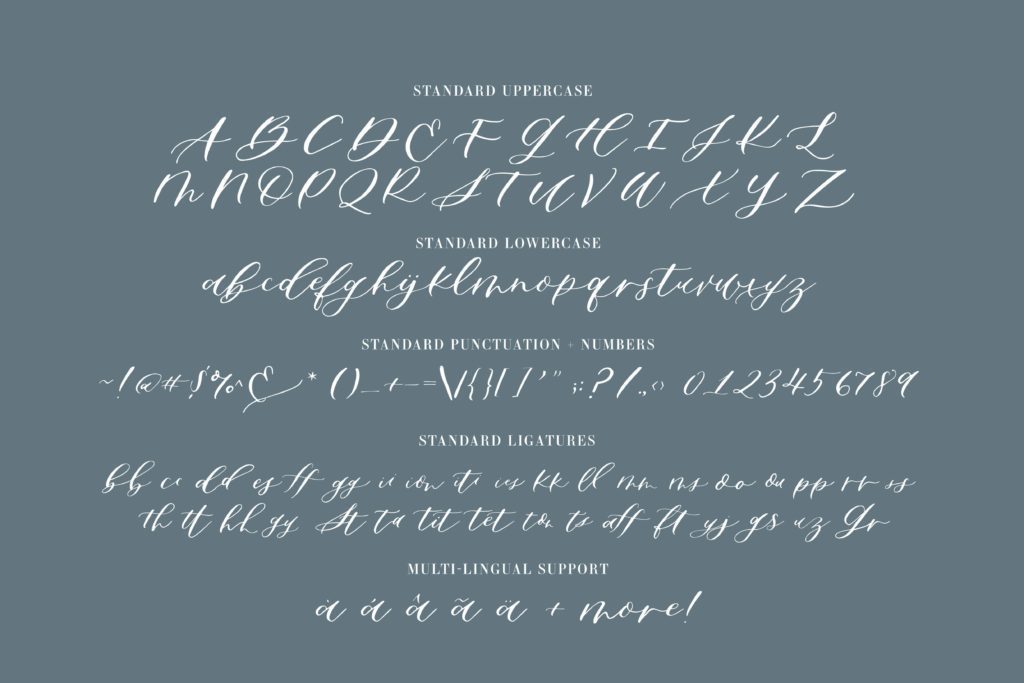 Canyonlands Modern Calligraphy Font
Canyonlands is my new go-to font! It's got a really whimsical look, and reminds me of the hand calligraphy done by Lauren from A Fabulous Fete! Canyonlands is a script font that's aptly named, as it fits in well for a desert, Southwestern style wedding invitation. If you've ever been to Palm Springs, this font will feel right at home on your wedding invites, but it also works on a lot of other levels.
Here's this modern calligraphy font featured in our Mountains Wedding Invitation Suite! This calligraphy font would work well for letterpress invitations or gold foil invitations as well.
Cathiy Beteiy Script Font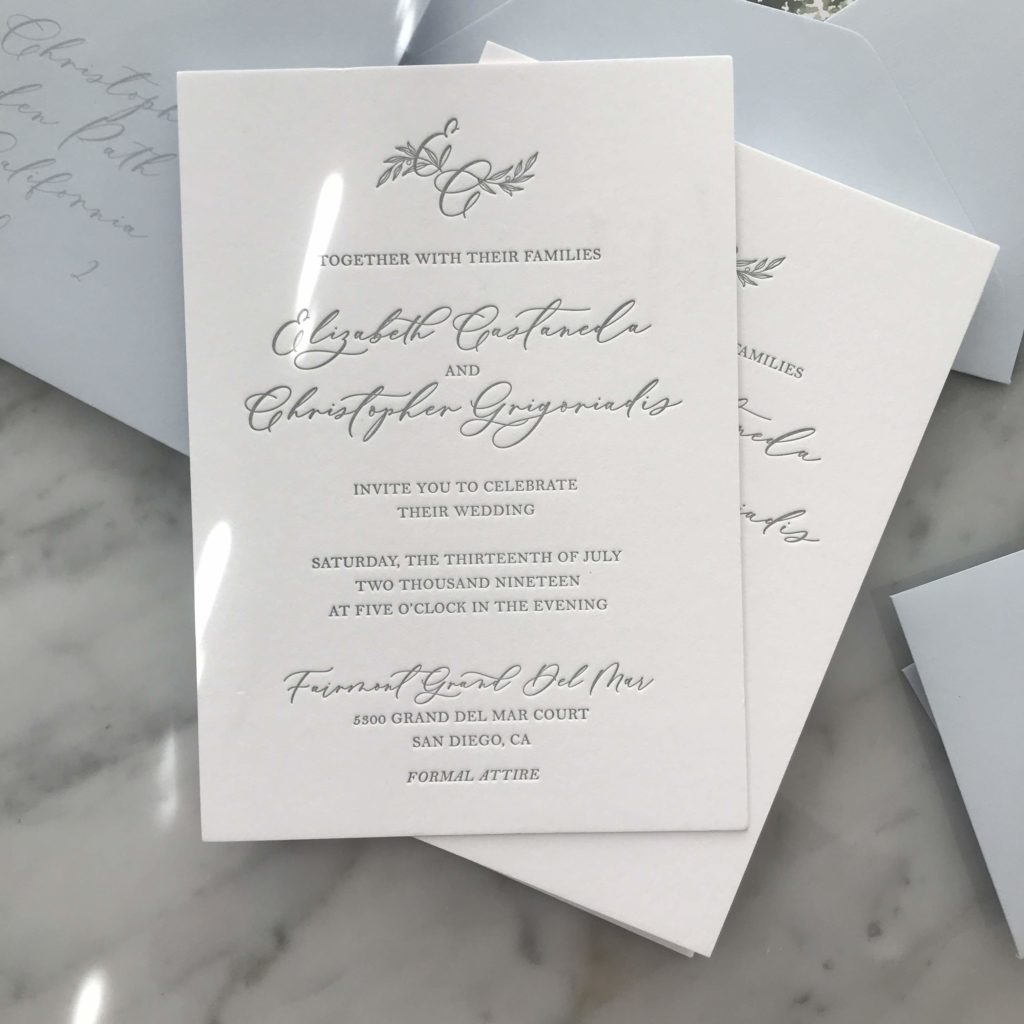 Before making my own hand-lettered font, Sapphire Script, Cathiy Beteiy was my number one go-to modern calligraphy font. Mostly because it looked like my hand calligraphy so it matched well with invitations where I used my modern calligraphy writing. However, it's also a beautiful font option that feels elegant and formal for your wedding invitations.
The best part about Cathiy Beteiy font is all the options you have to choose from. Most of the lowercase letters have optional glyphs that are slightly different sizes, so you can keep the natural feel of the typeface, or make the calligraphy look more bouncy and irregular for a more modern look. I've used this font for letterpress and gold foil stamping, and it's featured in many of our invitations! It also is a perfect font for envelope address printing.
Adora Bouton
I think it's the only font on this list that contains beginning swashes on uppercase letters to create a balanced look no matter what letters you use. Adora Bouton is a similar script font to the Rarebird font that's later on this list – it's a little pricey, so Adora Bouton is a nice alternative that's still organic and has a hint of that handwritten feel.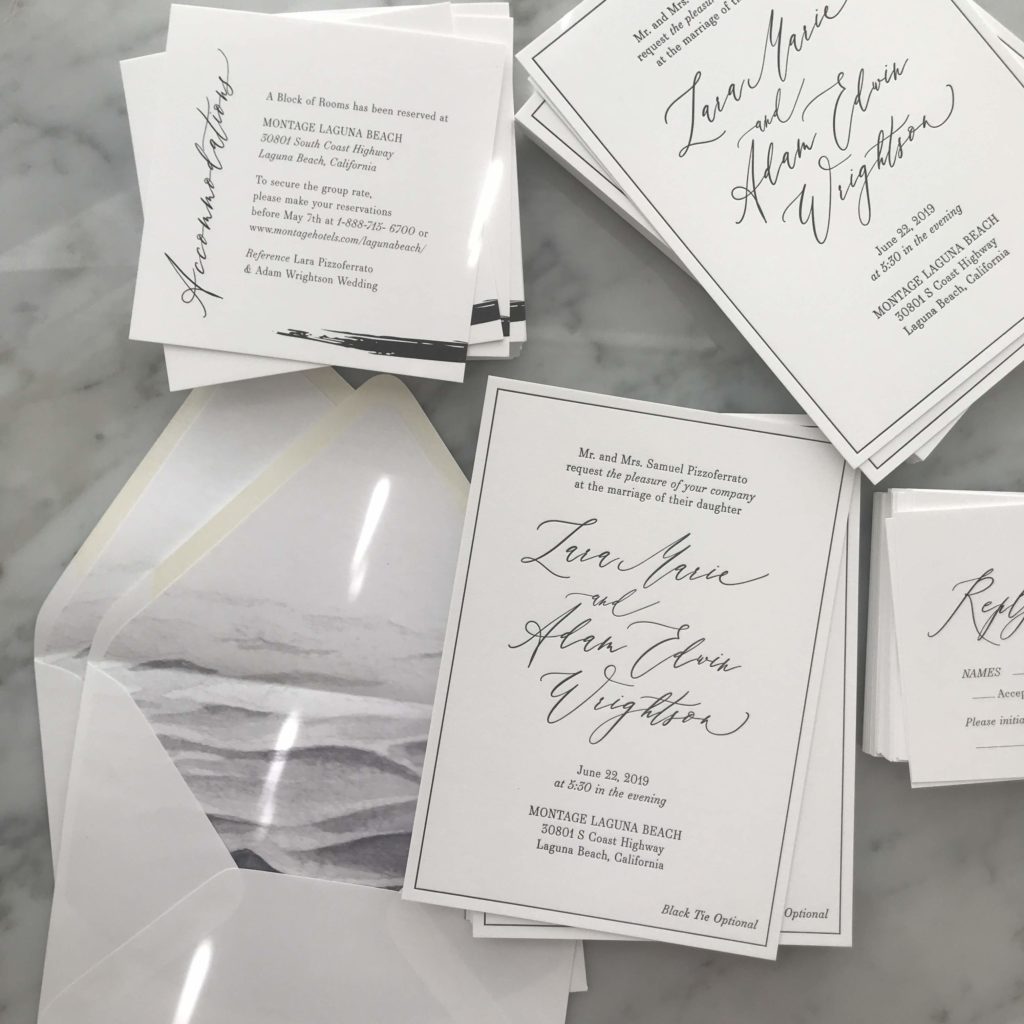 La Bohemia Organic Calligraphy Font
If you want your wedding invitations to feel organic, natural and loose – La Bohemia is the modern calligraphy script for you!
I wouldn't use La Bohemia for text that's going to be smaller on an invitation, or for too much text on your wedding invite. This calligraphy typeface makes a bold statement, and should be used sparingly. It can get tough to read at really small sizes, but in larger sizes is breathtaking!
If you're using letterpress printing for invitations, make sure you add a stroke or two for the La Bohemia text! Otherwise, it's a bit too thin.
White Garden
White Garden is a font you could almost call simple – but those are the hardest ones to create! And it's elegant in its simplicity. White Garden won't overpower your wedding invitation design, but will add a touch of sophistication in a soft way. As the name suggests, this is the best font for a garden wedding invite!
I also lied earlier, because White Garden also contains beginning swashes for uppercase characters. This calligraphy font includes multiple options for uppercase characters, as well as ending swashes for the lowercase characters.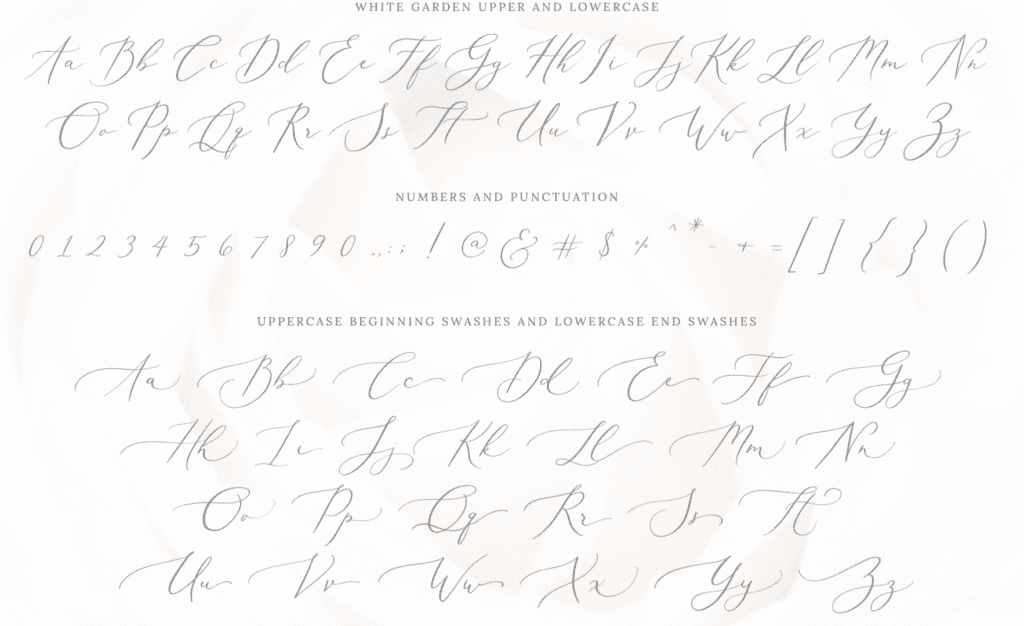 Aurellia Script
I included Aurellia Script here on the list, because it actually reminds me of White Garden! It's a little more angular, and feels more whimsical to me, whereas White Garden feels more airy and organic. I have used Aurellia in several of my semi-custom wedding invitation designs which are pictured here.
Aurellia naturally has swashes on the beginning of all uppercase letters, and has optional swashes for the ends of each character. This makes it a really fun font for wedding invites – perfect for including your names and/or your venue in a fun script while pairing the calligraphy type with a more structured block font.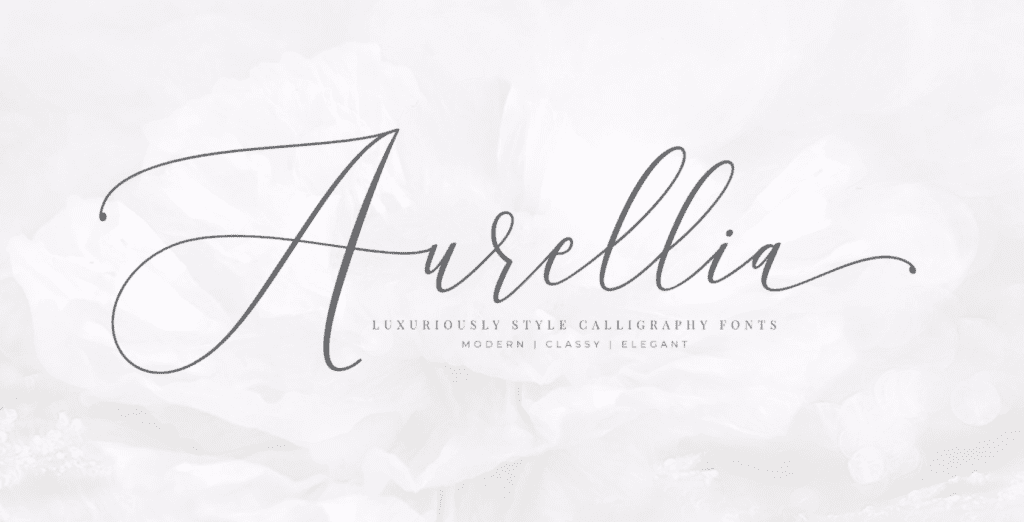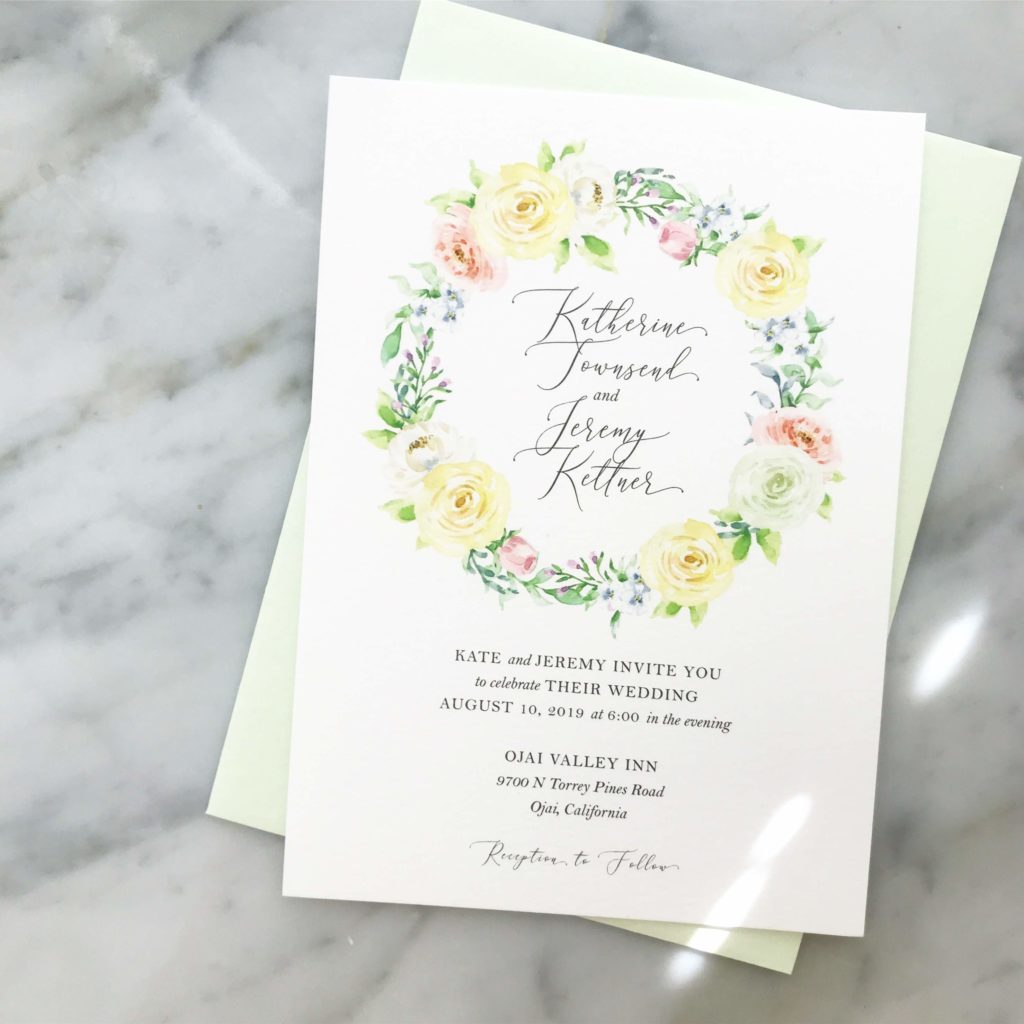 Ms. Claudy Calligraphy Font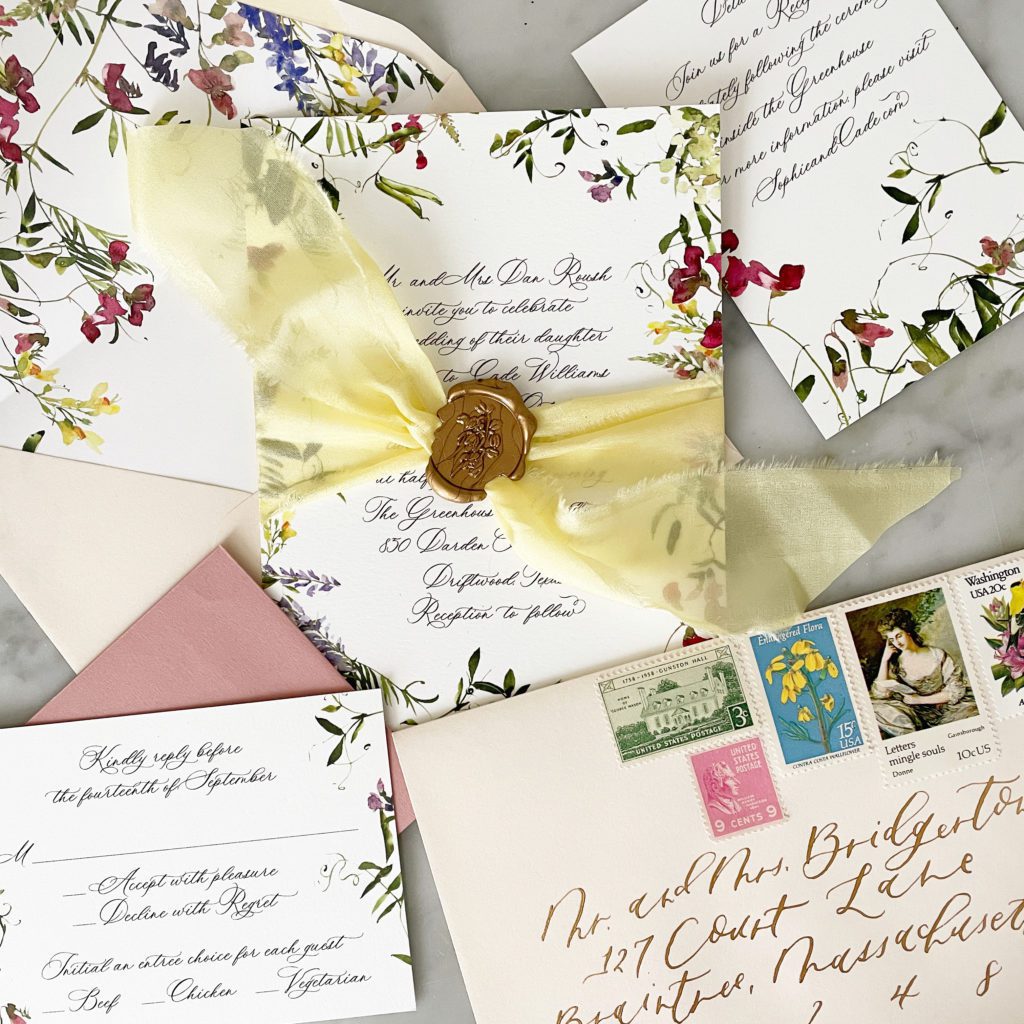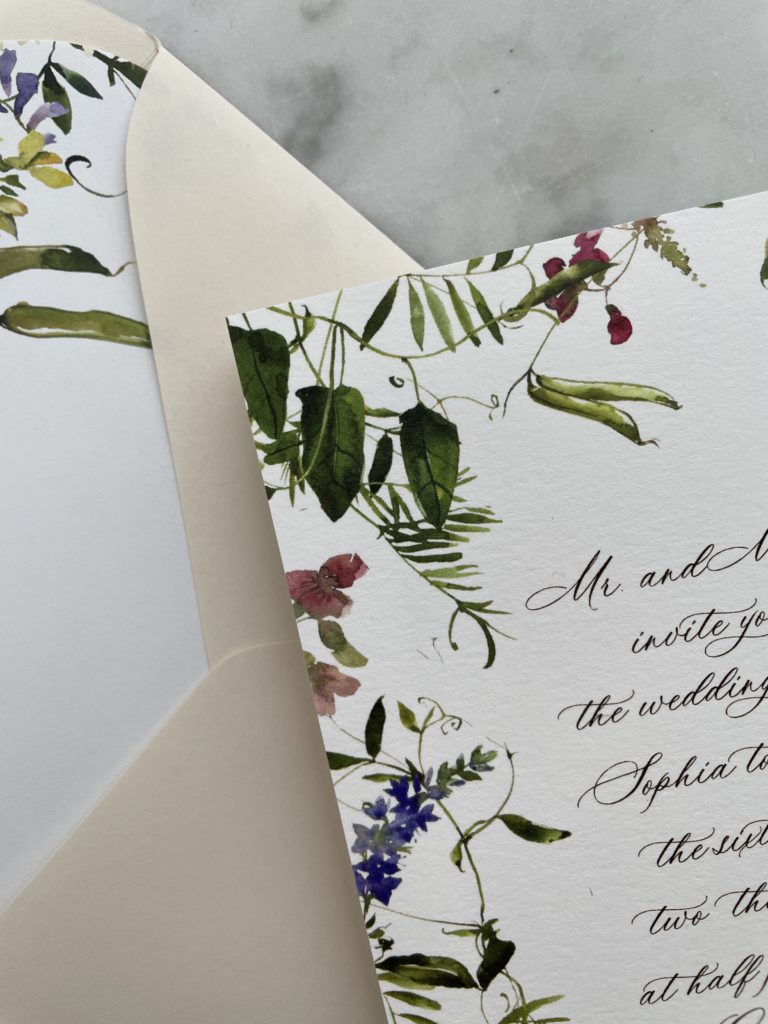 Ms. Claudy is one of my newer calligraphy fonts, and I can't get enough of it! This will sound weird to say – but this modern script typeface feels like a fairy tale to me. Maybe that's why it pairs so perfectly with our botanical garden invitation! I love the dainty barely-there contrast of thick and thin lines that make this font look like it was just written with a calligraphy nib. The optional swashes are extremely realistic to copperplate calligraphy, but with a slightly modern feel.
This is Ms. Claudy on our Botanical Garden wedding invitation! We added a wax seal, silk ribbon, and vintage postage to this suite for Bridgerton-themed wedding shoot.
Mon Voir
Mon Voir is another font created by a calligrapher you may know of – Jenna Rainey. She is also a well-known watercolor artist! Her style of calligraphy is really fun and playful, and Great Lakes Lettering collaborated with her to make a modern style font out of it! I love this font for wedding invitations that are especially modern and unique. Think art deco invitations, museum wedding invitations, or even a Tuscan villa invitation!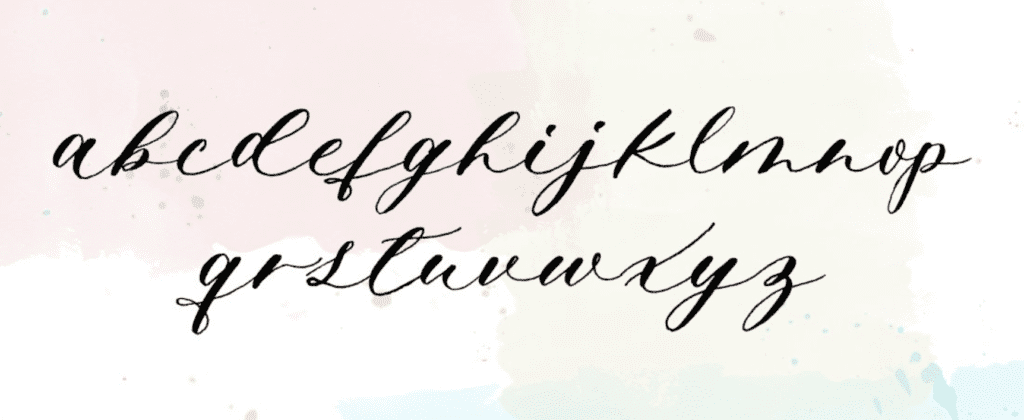 Loenna Modern Calligraphy Typeface
A fellow calligrapher actually designed Loenna Typeface, and it's fairly new! I definitely see it growing in popularity because it's incredibly well done. It has hundreds of characters, and even 30+ "t"s to choose from! For that reason, Loenna is a little on the pricier side, but if you work with a designer who already owns it (like my team!), they'll be able to use this gorgeous wedding font on any of your invitation pieces!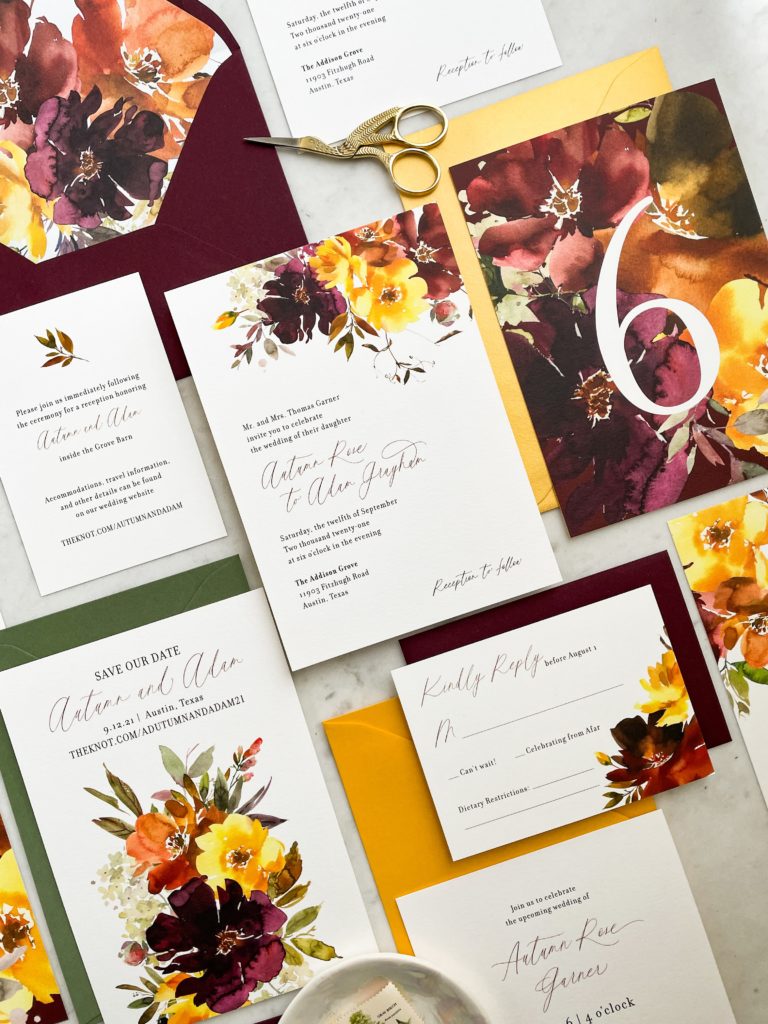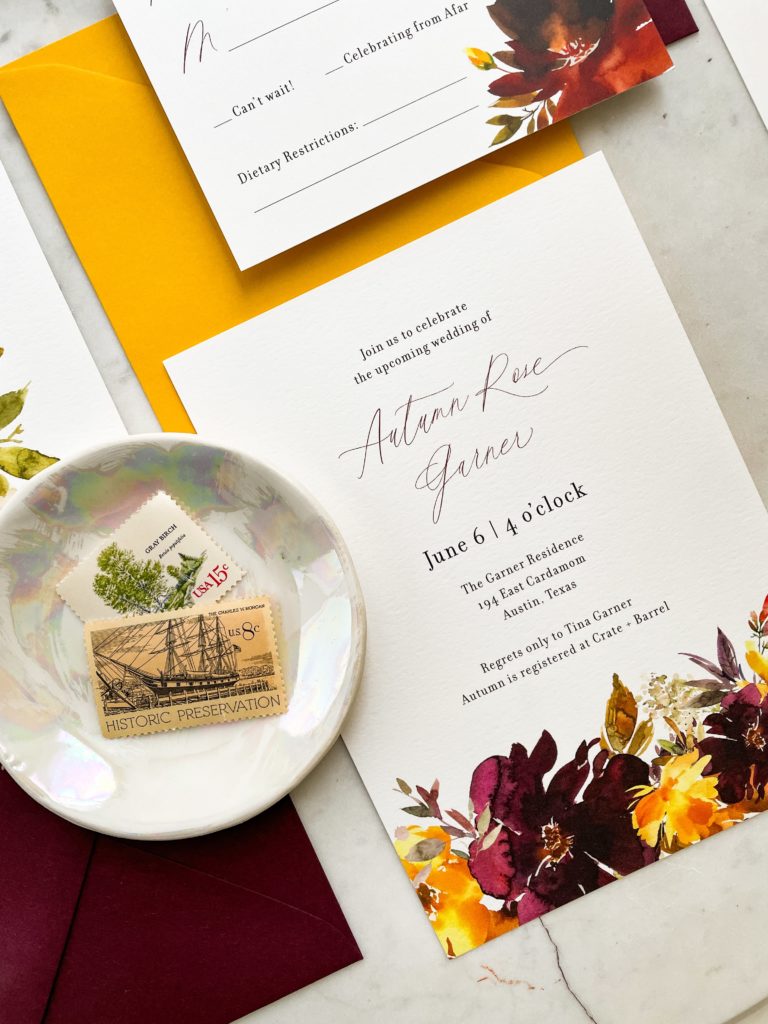 Rarebird Fonts
I questioned whether to include Loenna or this Rarebird typeface, because they are both more expensive than anything else on this list. However, I think they're both worth it – because, seriously, how beautiful is this?!
This Rarebird font is known as Specimen 2 and was crafted by Written Word Calligraphy (one of my idols!). It was the first of its kind when it came out a few years ago, and one of the main things that inspired me to create my own font! I love how organic and natural it feels, while still being sophisticated and clean. You may not want to use this font for envelope addressing (I've done it, but there can be some legibility issues). It's perfect for names though, and I love a mix and match style of wedding envelope addressing! Names in a calligraphy font, and the address info in a block print – it's fun but still easy for the Post Office to get sorted. PS – here's a video on mailing wedding invites for you, and a blog post if you prefer that!
Font Licensing
You'll want to be clear on font licensing if you are looking to get a new calligraphy font for your wedding invitations. While there are free wedding script fonts out there, they are generally for personal use only, so just be careful. If you decide to sell any of your designs, you'll need to purchase a commercial license for that font.
Choosing the Best Wedding Invitation Font
When picking out the best font for your wedding invitations, how do you know what's right? Here are a few things to look at:
Does your font have capital letters that you like? Use a font generator to test out the calligraphy font in your name and your partner's name. Sometimes I hate how an "L" looks in a certain calligraphy font, so I don't like to use those for myself.
Does your font have lots of options? I showed you how to use fonts with swashes and glyphs in an earlier video/section, but is this important to you? If so, the best calligraphy font might be one like Melanie Script, Sapphire Script Font, or Rarebird Font options, as those come with lots of different alternatives.
Does your font include numbers? Sometimes the best wedding invitation fonts don't come with numbers. Free licensed wedding fonts often can be guilty of leaving numbers out. But numbers are important for weddings! So make sure your wedding invitation font includes numbers.
Is your font legible? If you're going to use your font for wedding envelope addressing, or wedding address labels, then you need it to be legible. I haven't had too many issues with any of the calligraphy fonts listed in this article, but if you want to create the safest addressed envelopes or address labels, then use a calligraphy script font for the names, and a print font for the addresses! Another legibility concern is how thick the letters are. Most calligraphy fonts do not offer a "bold" option, so you may need to add a stroke in your design program (not an option in Word, but you can in Adobe Illustrator, for instance) to make it thicker.
All of the fonts we've talked about today are used often for Save the Dates, wedding invitations, wedding address labels, envelope printing, return address stamps, thank you cards, wedding menus, escort and place cards, and all sorts of wedding stationery!
Best Fonts for Letterpress Invitations
A lot of the wedding invitation script fonts we've included in this list will work for letterpress invites! The key is that they need to have a certain thickness – so the fonts I'd recommend as the best for letterpress printing are:
The best caligraphy fonts for gold foil stamping are generally the same as the best fonts for letterpress! These processes are both really similar – here's a video explaining our favorite wedding invitation print methods!
Which of these modern calligraphy fonts is the right one for your wedding invitations? There are so many beautiful fonts for invitations to choose from! Let us know your favorite in the comments, and if you have any additional questions about designing wedding invitations that we can help with.
I'll leave you with one final video that might help you on your wedding invitation design journey: