We sent out over 1,200 invitation reply cards last year, and looking to do even more this year! The reply card is an often-overlooked piece of the invitation suite – we tend to stick with the typical RSVP card wording and design and move on to more "exciting" parts. The truth is, however, that the invitation RSVP card is the only conversational portion of the suite – the only piece that sends information to your guests and also receives information from your guest – so don't discount the value of the RSVP card! It can save you loads of headache as well as help with your budget if you use it properly!
Plus, I absolutely loved getting all of our RSVP cards back in the mail! Even though we ended up cancelling our wedding reception thanks to *you know*, we kept the RSVP cards and still look over them sometimes.
Learn to design wedding invitations in our free 7 day Invitation Design Crash Course!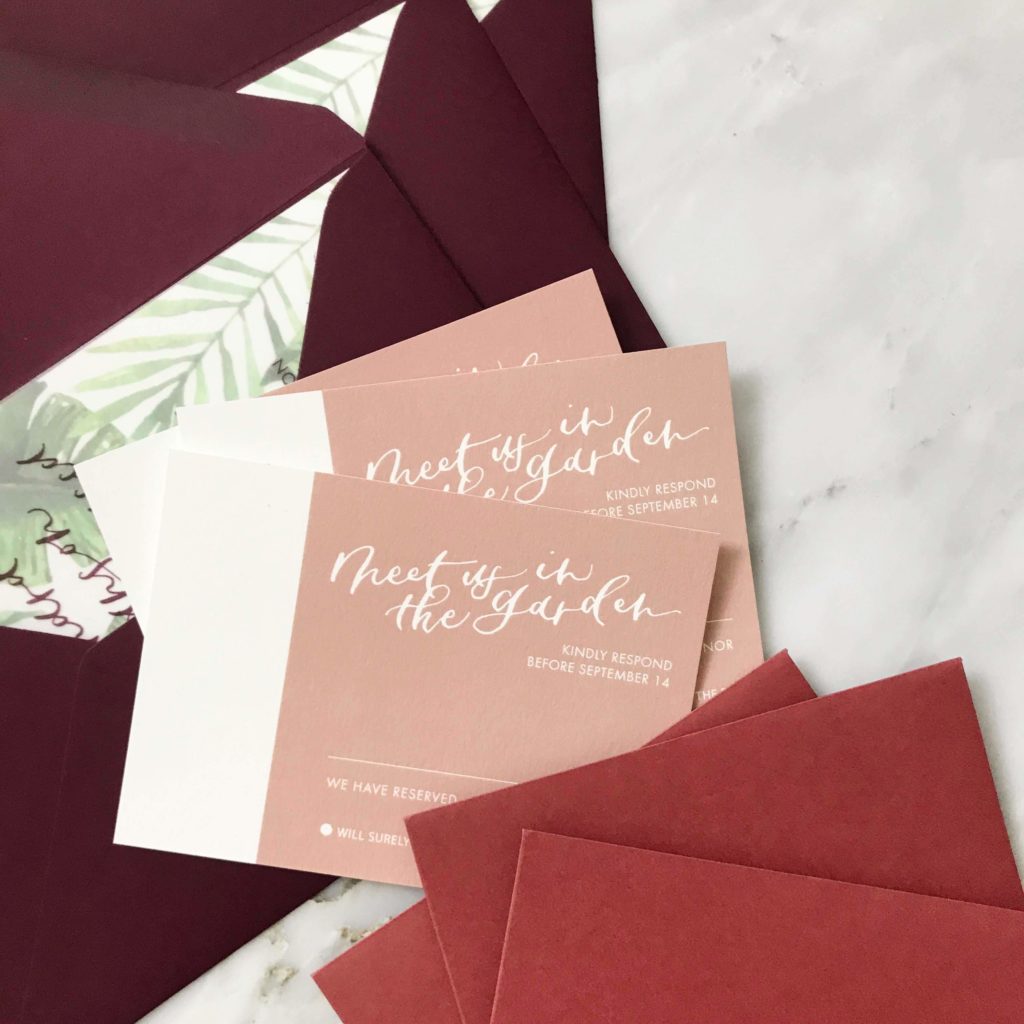 What is an invitation Reply Card?
A reply card, also known as an RSVP card, is a piece of the suite that allows guests to write in their names and let you know if they can attend your wedding or not. It stems from a time when a person would receive a handwritten note as an invitation, and respond with their own handwritten note back. We've modernized it since then, of course, and a lot of Reply Cards look very similar these days – write your name, check yes or no, return to sender. Pretty simple.
What does RSVP mean?
A reply card is also the same as an RSVP card! RSVP stands for "Répondez s'il vous plaît" which is a French phrase that means "respond if you please". So an RSVP card is the exact same as a reply card, but just based off of this French saying. Anything you can do on a reply card you can also do with an RSVP card. You may also refer to a reply card as a response card!
Should you use RSVP or Reply?
It doesn't really matter whether you ask your guests to reply, to respond, or to RSVP to your wedding. The formal way to word a reply card, according to Emily Post, is to say that "The favo(u)r of your reply is requested by _____". The u in "favour" and "honour" (as in "the honour of your presence is requested at the wedding of…") are historically formal terms, but nowadays generally refer to where in the world you're writing from. Favor without the u is just as formal.
So unless formality is a concern, you can ask your guests to reply, respond or RSVP – whatever you want!
When do you send a Reply Card?
Reply cards are usually included with the invitations. They often include a stamped envelope in order for the guests to send them back to you free of charge. If you're collecting RSVPs online, then you'll still want to include a separate card with the website address on it so that people pay special attention to it.
Who gets a Wedding Invitation Reply Card?
Everyone who receives an invitation! If you send to international friends, then you do not stamp the envelope, as they'll need to purchase a stamp in their own country to send it back to you.
What Information Is Needed for a Reply Card?
The only required information is a reply by date, names, and your options for attending or not. The reply by date is typically about 4-6 weeks before your wedding, which will allow you time to create a seating chart and provide final counts to all of your vendors. However, if you want to take your reply card to the next level, you can include plenty of other information on it!
Number of Seats reserved: This is a line that typically says something like "We have reserved __ seats for your party" and you fill in the blank. It keeps people from inviting unwanted plus ones or children, and makes it clear who's invited.

Number in Party: This is a more open-ended line that will allow your guests to indicate how many people are coming with their party. That helps you get a more accurate count.

Meal Choices: Your caterer may offer meal choices, in which case you'd use the Reply Card to get an accurate count.

Many Reply Cards these days allow for a write-in of any dietary restrictions as well, so you can give the caterers a head's up!
Watch me design a wedding invitation RSVP card:
Reply Card Wording or RSVP Card Wording
The wording of your RSVP card is important to make sure you get the information that you need. Sure, formality and etiquette matter when it comes to wording a response card, but this card is really about functionality. Different wording can suggest different things to your guests, or lead to you not getting the information that you need back from them!
First of all, make sure you have a spot for your guests to write their names. If you want to be a little extra, you could even fill in the line for them with their names! Otherwise, a line with a capital "M" at the beginning is fine, or often my couples will just write "Name(s)" in front of that line.
That Name(s) brings up a good point – are invitation reply cards plural or singular? If you want to go all out, you can get multiple versions printed. One for single guests, and one for guests that are part of a larger party. But if you don't want to do that, then there are two main options for wording a reply card! Of course you can also just give everyone a plus one, to ensure that everyone is part of a couple (but that's not always a good option):
Use (s) – So instead of "Accept" you'd write "Accept(s)". This works for both single guests and groups.
Assume couples – Most of your guests will be in couples or families. Yes, this might rub a teensy bit of salt in the wound for single guests, but generally it's okay to write your response cards assuming everyone is coming in groups. In this case your options would be "Accept" or "Decline" as in "(WE) Accept" or "(WE) Decline" (not "Accepts" as in "(SHE) Accepts"
After that, the wording is really up to you! If you'd like to guarantee only a certain number of guests replies, then you can include a line saying "We have reserved __ seat(s) for your party" – just remember to fill in that number. If you want them to let you know how many are coming, you can include a line for them to indicate the number of people in their party (this will help you get an accurate guest count). You can also ask for things like dietary restrictions, meal choices, song requests, or even advice! For my wedding, we did a fun mad lib on the back of our reply card and it was a blast to get all the responses back!
Reply Card Accept or Decline Wording
Does it matter what wording you use for accepting or declining the invitation? Not really! I love unique reply cards that use fun or creative wording. Emily Post says to use "accept / decline" or "will attend / will not attend", so you should do that if the rest of your suite is formal and traditional. My only real advice here is to make sure it's very obvious which option is a YES and which option is a NO. You can use Yes and No, even. And make sure the guests have a clear space to either check a box or a line. If you want them to circle one then you should provide an instruction to do so.
How to Design Invitation Reply Cards
Design-wise, we typically keep reply cards more simple, with one or two elements corresponding to the rest of the invitation. They are typically small (around 3.5×5") but have a good bit of information on them, so you don't want too many graphic elements taking up that space.
Handwritten: The extra formal reply card is simply a blank card, where the guest can hand-write a response in letter format. A lot of folks get confused if you do that these days, so while we love the personalization of it, we'd recommend a little instruction.

Colors: Since guests have to respond, try not to print your reply cards on dark paper (they may not be able to find a pen that shows up on it!)

Anonymous RSVPs: It never fails that a few people forget to fill in their names. To avoid this, we recommend numbering the back of your RSVPs to correspond to your Guest List, or printing your guests' names on them directly.

Take Advantage of the Response: Like we said, this is the only actual exchange of information you have with your guests via stationery – use it. We love when guests are encouraged to share a recipe, song suggestion, or even marriage advice on the back of their reply card.

Wording: Keep your wording as formal as the rest of the invitation. Of course, we love unique wording such as "Meet us in the garden" or "You're coming, right?". Our Adventures Await suite was named after the wording on the reply card!
Reply Card with Meal Options
As we mentioned at the beginning, the RSVP card is the only conversational part of the wedding invitation suite! This serves a functional purpose and one of the more popular options is to include an area where guests can choose their meal for the wedding. If your venue/caterer requires this, you'll want it to be on your RSVP card!
We prefer the wording "Please initial an entrée for each guest" (don't forget the accent over the e) because it makes it clear who receives what meal. This is a little easier for your servers than knowing that there are 2 people in this family who want steak and 1 that wants chicken. You'll know exactly which person ordered steak and which ordered chicken.
Reply Card Dietary Restrictions
Many couples want a section for dietary restrictions on their reply card as well. This is for people to write in if they are vegan, vegetarian, gluten-fee, or have any allergies. Of course, there are about a million options here that I haven't listed! But just include a blank line that says "Dietary Restrictions:" for them to fill in. Some people will put in strange things like "Don't like mushrooms" but you can decide how particular you want to be with your caterers!
RSVP Card with Song Request
And of course – you can have fun with the Reply card in your wedding invitations too! Because it's a conversational piece, you can ask for a song request, family recipe, advice for the couple, or even something fun like a mad lib – we did this for our wedding and it's so fun reading the answers people filled in!
If you want an RSVP card with a song request line, just add a blank line (or use the back of the card!) and something like "A song guaranteed to make you boogie:" or "The dancefloor will be rocking if you play:". You can of course always keep it simple and say "Song request:".
RSVP Cards for Online Wedding RSVPs
There are a ton of benefits for collecting wedding RSVPs online. You can save money, save time, and have everything in a handy spreadsheet ready to go. It's easier to collect RSVPs for different events (like rehearsal dinner, brunch, etc.) if you do online RSVPs.
Most wedding websites like The Knot or Zola have the online RSVP functionality built in, so it's not too hard to make this happen.
The only downsides to online RSVPs for your wedding are that people forget to RSVP online more often than they forget mail-in RSVPs, and of course that older people may have trouble. If you have a lot of older people on your guest list, you may want to do mail-in RSVPs or you can call them individually to collect their information.
Online RSVP Wording
I still highly recommend including invitation reply cards for your website and indicating that they need to reply online. It'll help people not forget to RSVP (I've even been guilty of this and I do it for a living!). This card wording can be as simple as:
"For more wedding information and to RSVP by August 7, please visit our website: www.weddingwebsite.com"
It doesn't have to be complicated, but of course you can add further information for accommodations, etc. on there! As a potential bonus – this makes people more likely to visit your website and you miiight get more gifts that way if your registry is on there!
Budget Saving Tips for Invitation Reply Cards
There's not a ton of ways to save on the reply card directly, but the reply card is strangely powerful in its ability to save you in other ways! Here are a few suggestions:
Postcard RSVP Cards: Postcards are common these days, as they cut down on postage and envelope costs. Most postcards can get torn up in the mail, but since they'll arrive to your guests in an envelope with the invitations, you're the only one who will see them after they've gone through the ringer!

Online RSVPs: Online RSVPs are increasingly common, and have similar cost savings to the postcards. We don't recommend including reply information on your invitation directly, as people may overlook it, but you can include it on another small card to draw attention to it.

Meal Choices: Get an accurate count on the meal choices with the right reply card wording – we like "Please initial a meal choice for each guest" so that you can tell who is getting which meal as opposed to just how many of each meal. That way, if you end up doing place cards or escort cards with meal choices indicated, you know whether Uncle Jim or Aunt Karen wanted the vegetarian meal. The more accurate your meal counts, the better off you'll be!

Prepare for Other Events: You can use the RSVP card to capture counts for other wedding events as well – such as the rehearsal dinner or Sunday brunch. We often print multiple versions of a reply card, and include the correct one for each guest based on what they're invited to. This way, you don't have to send a second invitation or reply card just for those events.
Who knew your wedding invitation Reply Cards could do so much? We can't wait to chat with you next week about Inserts and Details Cards!!! In the meantime, take a look at our Collection Suites Details Cards here, or send us an inquiry for custom invitations!