7 Tips for Better Invitation Pricing!
It's so hard to determine your custom invitation design pricing. What should you charge for invitations? What options should you provide? How much is a good margin for your stationery business? These are some questions I'll help you answer today with 7 tips for better wedding invitation design pricing.
First, here's a video exploring 2 different pricing strategies and why you might choose one over the other!
Custom Invitation Design Fee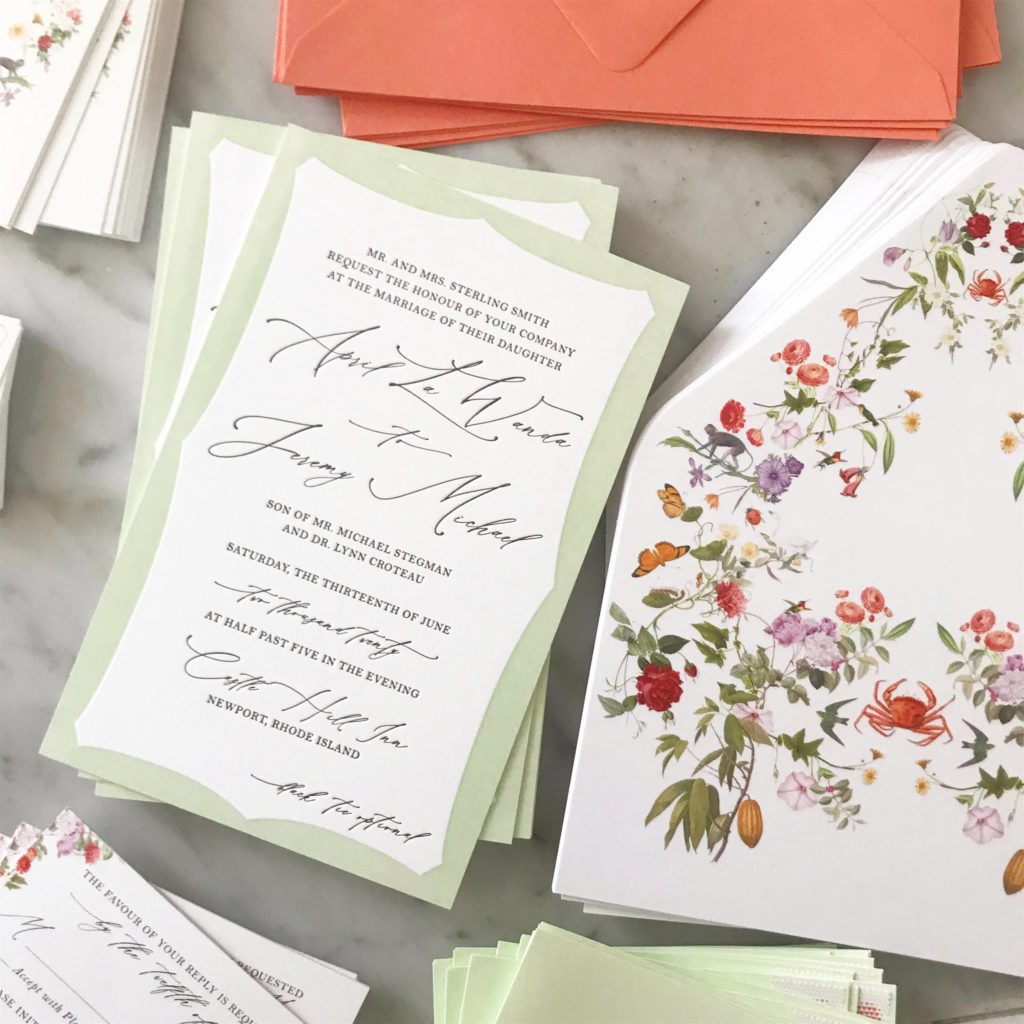 Always have a custom invitation design fee, even if you don't specifically itemize it out like that (hint, I do!). This is what your clients are paying for you.
You are the only thing about your work that they can't technically get elsewhere. Stationery Designers generally use the same brands of paper, envelopes, and ribbon – but what you do with those papers, envelopes, and ribbons is what makes your product unique. Thus, this is where a good portion of the money should go.
People often negotiate things on my invoice, but they never try to negotiate my design fee. They know that's what they have to pay to work with Laney. Plus, I know that even without any margins (we'll talk profit margins soon!), I'm still going to make that custom design fee.
Price for all the "Extras"
Account for time, shipping, all the extra stuff. There's more that goes into your time than design only. When creating and pricing custom wedding invitations, make sure you account for shipping, assembly time, and all the time spent emailing, sketching, and updating proposals for your clients. My custom invitation design pricing has assembly and administrative time built into the design fee, but you could itemize that out into a separate fee if you prefer.
You don't have to offer assembly either. This is going to depend on what end of the market you're in, and what you want your client experience to be. Just make sure you account for whatever you decide to include, and make it clear in your contract what is/is not included from an assembly standpoint.
As a bonus, include your rates if they want MORE assembly than you typically provide, just so they know!
Estimate your Shipping Costs
Estimate your shipping. Weigh your most common suite (say 100 QTY) with a box, packaging, etc. and note what that weight is. Then weigh 10 pieces, and note that weight. This will help you estimate shipping costs more accurately for approximate quantities.
For a proposal, you don't need to know exactly where things are shipping or how. Just include an approximate estimate on the proposal, and note on the proposal (and in the contract) that your shipping costs are estimated and subject to change. Then change it if you need to before the final payment. PS – it always helps to overestimate.
Stationery Business Profit Margins
Aim for a 2.5-3x margin. While there's a lot of debate over what margins are necessary for a stationery business, this is a general industry standard. I get WAY into this in Power in Pricing, but if you're starting out, it basically means to take your cost for something and multiply it by 3. That is what you should charge for that piece.
I like to look at every job after production, to see what my margins were on each piece. This also helps me figure out where I may have made a pricing boo-boo and where I can improve in the future. Grab our free Job Earnings Calculator to see how you've done on a past job!
Simplify your Pricing Structure
Simplify your life as much as possible. This goes for pricing too. It seems like we are doing our clients a service by providing a million options. In fact, the opposite is true. It's confusing, and difficult, and stresses the client out. Plus, it looks like you don't know what you're doing, if you don't have somewhere to direct the client.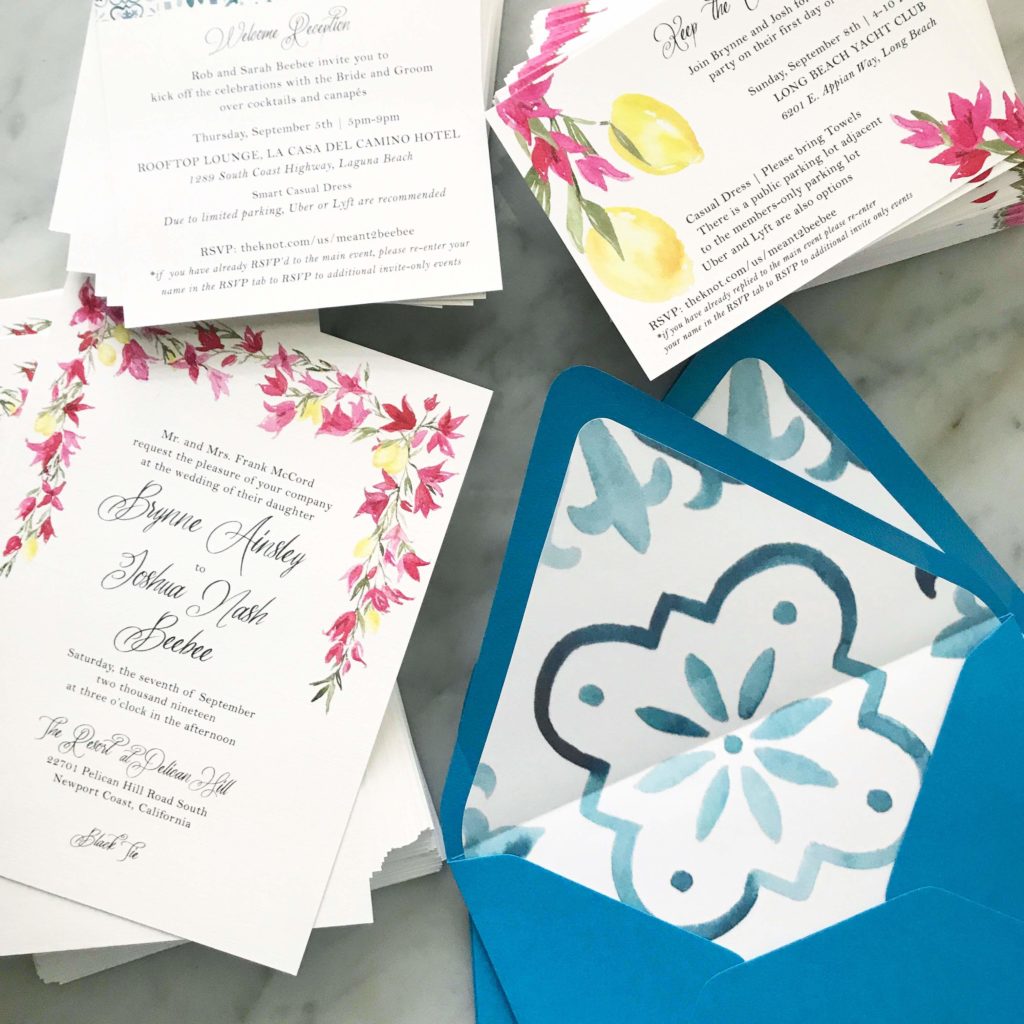 What this looks like for pricing is to have a base package, or a couple of base packages. Your most common invitation package – for me it's 100 quantity, Invitation + Envelope, RSVP Card + Envelope, Details Card, and addressing. This is the proposal that every lead gets, and then I will customize further, after they've given me buy-in. If you ask a million questions, and give too many options up front, it makes the process feel difficult. So make it easy on you, and on the client.
Don't Discount Unless…
Only give a discount when it makes sense. Which it usually doesn't. Pricing shouldn't be emotional, so never give a discount out of fear of losing the client or based on any kind of sob story on their behalf. That is not your problem. It *is* however, okay to lower the pricing sometimes if it makes sense.
For me, the best example of this is lowering the price because the client lowers the scope of the work. This isn't actually a discount! It's a great way to fit in their budget and work with your need to be paid for your time and effort as well.
Other reasons I've given discounts include exposure (yes it's a real thing!), friends and family, causes I believe in, referrals (I give planner clients free shipping to foster the relationship with the planner), and service bartering. All of these things provide me value in return, so it's an even value exchange, not just me lowering my value to fit their needs.
Here's a video all about what to do when people ask for discounts:
Charge More
Lastly, add 5-10% for mistakes or unexpected expenses! It's just gonna happen sometimes. Especially when you're first starting out. And if it doesn't? You made an extra 5-10%. Wahoo!!!!
I also like to call this "rounding up"! So if a calculation comes out to $0.93 per piece – I round up to $1. That covers the extra 5-10%, but also makes it easier for a client to digest your proposal (simplicity, remember?).
Hopefully these 7 tips were helpful for you in creating your custom invitation design pricing! Want the confidence to raise your custom invitation prices? I go in-depth into the theory behind pricing, how to price your worth, and show you 6 different pricing calculations in Power in Pricing. I hope you'll join today for over 4 hours of pure invitation pricing POWER.
A recent student says: "I confidently doubled my fees after this course and have yet to have someone turn me down due to pricing!"