Hey, hi, hello! I'm Laney and I currently own Design by Laney, a multi-six-figure stationery and education business. This post will be a little more of my story, and also a how-to for you! If you're looking to start a successful stationery business, I'll include the first 5 things you should do.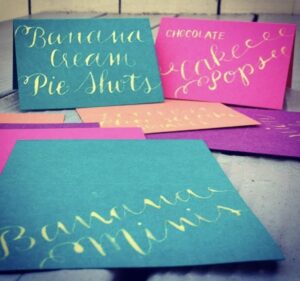 So how did I start my stationery business? It all began in 2016, when I had a boring corporate job and a side gig as a wedding planner. Our planning company took a calligraphy class for a fun, team-building exercise, and I just stuck with it! Eventually, I started doing calligraphy for our clients, and then clients of other planners we knew, and it all morphed into stationery design…kind of by accident. Here's a photo of my first official calligraphy "job"! But it quickly became obvious that stationery design was a much better fit for me than wedding planning.
My favorite things about running a stationery business:
It's one of the only wedding businesses where you can work (mostly) "normal hours" instead of putting in a ton of time on weekends.
It's easily-portable, and I knew that my husband and I were likely to move some! We've moved across the country two times now, and I was able to take my invitation business with me both times with ease.
It combines the logical and creative sides of my brain really well!
It's scalable in a lot of different ways!
…and of course, I *love* creating beautiful invitations for my clients!
I was still mostly a calligrapher for a while, but you absolutely don't need to be a calligrapher to start a stationery design business. I started to learn printing when someone asked for prints of my calligraphy. I literally walked to a printer a few blocks from my apartment and asked them how to do that! They were so kind and taught me over the next few months about paper and printing, while I pieced together the graphic design knowledge I needed on my own. Then one day, one of our clients asked me to design her wedding invitations, and it all started coming together.
I learned how to start my stationery business by accident, mostly. There were no teachers for this back then (although plenty of mentors, printers, and other stationers helped along the way!). And I run my stationery business as an entirely self-taught graphic designer. So I want to walk you through the first few things I'd do if I were starting an invitation business today! That way, you can avoid some mistakes and costly errors along the way.
So here are the first 5 things I'd do to Start a Stationery Business today:
1. Set up your Business…the right way!
Before you take this too far, you want to make sure your business is set up the right way. If you're earning more than $400 in a year from a certain job, the IRS determines you need to file taxes on your business. The first things I would recommend to get your business set up are:
Set up your business for filing taxes
Separate your business bank accounts
Apply for any applicable business licenses
Tax Filing Status for Stationery Business
Disclaimer: I am not an attorney or accountant – please take all of this as general knowledge and confirm with a qualified representative before making any financial or legal decisions.
In general, there are two main tax filing statuses most solopreneurs use: a Sole Proprietorship or an LLC. Both of these are what's called a "pass-through entity". That means that, for tax purposes, you'll pay the taxes on income from your business on your personal tax returns. A Sole Prop leaves you a little more connected to the business legally, but is simpler to set up. A lot of stationery designers start as Sole Props. An LLC, or limited liability corporation, can separate your assets a little from the business assets, but requires a little more paperwork and structure. Typically, it's recommended to incorporate your business if you have personal assets to protect like property or dependents.
To set up either of these options, simply look to your state's requirements. I recommend Googling "How to set up a Sole Prop (or LLC) in _________" and put your state in the blank. Look for your state's government website, and follow the instructions there. It's usually an application with a small fee.
Small Business Bank Accounts
Again, I'm not a financial professional, so I won't recommend specific institutions, but I will recommend separating your business finances from your professional ones. Just get a separate account for your business and use it for all incoming and outgoing business transactions. This will help significantly with understanding the financial health of your company.
If you do want to get a business credit card, I will recommend this one from Chase. It's the one one that says "5% cash back in certain categories" – and it has a bit of a loophole for stationery designers. The 5% applies in the "Office Supplies" category, which includes several of our favorite suppliers. I always end up accumulating a lot more points than expected with that extra bonus! Please don't apply for a business credit card if you're not ready to handle that, and make sure to read all terms and conditions before applying. Design by Laney is not responsible for your financial decisions.
Apply for Applicable Business Licenses
Lastly, make sure you have any applicable business licenses. This often includes a city or county license, and each region will have different requirements. When I started my business in San Diego, I had to post about it in the newspaper for four Fridays in a row. So strange.
Your area might require additional licenses or permits for operating out of your home, owning or renting a studio space, or using certain products or equipment.
You will also need a Sales and Use Tax License – this often comes with your local business registration. Every tax code is different so read your local one for the best information, or ask a local Facebook group or tax professional.
And finally, do you need a Federal Tax ID? Often, you don't need this until you start hiring people. But a lot of wholesale suppliers will require it to set up a wholesale account, and it will be helpful to have. It's also extremely easy to get a Federal Tax ID (also known as an EIN). Just go here and apply!
2. Learn about Wedding Invitation Etiquette
When you start getting clients, they'll expect you to guide them through the etiquette needed for invitations. It's your job to be the expert, so start studying up! The main voice on invitation etiquette is Emily Post, and you can find a ton of articles on her site that will help you get started. This will also include understanding different invitation pieces and terminology, as well as the intended purpose for each piece of the invitation suite.
One thing I'd like to call out though is that etiquette isn't as closely followed these days. We make up new etiquette and encounter new types of relationships all the time. Understanding what the rules mean will help you break the etiquette in ways that make sense for your clients! It will also help you not accidentally forget something important or transmit incorrect information accidentally.
My favorite etiquette rules to call out:
Generally, the invitation comes from the person who is hosting (aka paying for) the wedding
Having 2 people on the same line of an envelope with an "and" between means they're married – so if you have 2 unmarried roommates, siblings, etc. then they'll get their own invitation, even if they live in the same home
You should try to match the vibe of the invitation to the vibe of the wedding, and this includes language formality
Language formality should also match across pieces
Technically, a wedding invitation only invites someone to the ceremony. If a reception is in the same place immediately following, you can include a line on the invitation for that. If there's a time gap or new location, it should be listed on a separate card
You can't invite a person to someone's marriage. I usually invite people to celebrate the marriage, or invite them to the wedding. Don't invite them "to the marriage of…"
You don't need much punctuation on an invitation. Generally, you use line breaks as punctuation, so you only need the punctuation that occurs in the middle of a line (for instance: Topeka, Kansas requires a comma, but you don't need periods or commas at the end of lines)
These are some of the big ones that might trip you up. I recommend this blog post about invitation wording, and this video about envelope addressing etiquette. You probably will never memorize 100% of the possible configurations, but you should learn enough to guide most of your clients through the process.
3. Learn how to use Invitation Design Programs
Now that you know more about invitations, it's time to actually learn how to design wedding them. Our favorite programs for stationery design are:
Adobe Illustrator
Adobe InDesign
Adobe Photoshop
All three of these are part of the Adobe Creative Cloud, and serve different purposes in design. I have a free Adobe Illustrator Course that will walk you through how to use it to design wedding invitations, if you want to use that to get started.
Do you have to design in Adobe, just because I like it? The answer is…sort of. It's not just because I like it, though. It's because it's the industry standard, and for a reason. Adobe programs are made for graphic designers, and that's the career you're taking on if you want to become an invitation designer. They have the most robust features of pretty much any other program. Plus, they are what every other stationery designer you work with will be using. If you ever need help, or your printers ask you to fix a file, or you're looking for tutorials – they'll all be using the language of Adobe programs. While you can use a program like Canva, Procreate, or any number of others to design invitations, you'll find that learning Adobe programs will serve you best in the long run.
Most designers design primarily in either Adobe Illustrator or Adobe InDesign. I like Illustrator, personally, and find most self-taught designers agree. So take that Free Illustrator Course to start getting familiar with it!
4. Print some Samples of Your Designs
Getting something to look nice on screen requires a certain set of skills. Getting it to look the same after it's printed is a totally different challenge (and I might say, tougher in some ways). I always advise new stationers to print out their designs. Not only will it help you get better at printing, but it'll help you build a portfolio to use to get real clients.
There are several types of printing, but you likely will want to start with digital or flat printing for your first designs. My favorite printing company, PrintsWell Fulfillment, offers digital printing for quantities as low as 10 pieces. This will be hugely helpful to understand the process of ordering invitations, setting up your files, and understanding techniques for printing colors and text elements. Here's a video showing how I prep my designs for print in Adobe Illustrator and order them from PrintsWell.
Investing in some sample prints will teach you so much, and very likely prevent a lot of costly printing mistakes in the future!
5. Market your Portfolio
Ordering sample prints also serves the purpose of ensuring you have some invitations to show in your portfolio. This is a fun time because you can design whatever you want, without client interference. I would recommend designing as if you're working with the exact type of client you want to work with – want to make colorful designs with funky graphics? Do that for your samples, so people see that that's your specialty!
Now it's time to market your portfolio. Here are my favorite marketing channels for stationery designers:
Wedding Planners and Other Vendors
Social Media (Instagram, TikTok, Facebook, etc.)
Pinterest
Etsy
SEO
Your own Personal Network
Let's talk about each of these a little!
Marketing Invitations with Wedding Planners
The key to this one is forming genuine relationships. You want to connect with the planner in a way that shows you understand their clients and can make their life easier. The planner almost becomes the client in this case. You may want to participate in a "styled shoot" (a fake wedding setup for marketing purposes) with a planner to see if you work well together and showcase your skills.
Selling Invitations on Social Media
We all love to hate on it, but it's extremely powerful. About 70% of my invitation clients come from social media these days. There is so much I can say, but in general the key is to understand exactly who you are trying to attract, and speak directly to them. Keep things simple, and your messaging clear. Don't try to appeal to literally everyone, and don't pay attention to vanity metrics (likes, follower count, etc.) when your true goal is to make sales.
Sharing Invitations on Pinterest
Pinterest is more of a search engine than a social media platform, and it can be really powerful for anything wedding or art related. I use Tailwind to schedule my pins. Some Pinterest experts you might want to follow are Meagan Williamson and Jenna Kutcher.
Selling Stationery on Etsy
My friend Carley Zuercher is a phenomenal Etsy educator! Etsy often gets a bad rap, but it's a wonderful marketplace to bring your work to people who are already shopping for your work. I frankly love Etsy. The key to Etsy is understanding tags, images, and what your shoppers are already searching for! There are a lot of resources on Carley's site to help you with that. I think it's important to note that Etsy isn't as ideal for fully custom invitations, so if that's your style then you might find other areas more beneficial!
Understanding Small Business SEO
SEO is search engine optimization. What I'm talking about here is optimizing your website to get more search traffic from places like Google, Bing, etc. Learning a little about SEO will also help you with Pinterest and Etsy, both of which are search engines themselves. Here's a blog post that will get you started on SEO! My favorite things about SEO are that it connects you with people who are already searching for what you offer (low hanging fruit!) and that it continues to build on itself over time. Even a small amount of knowledge of SEO will be so helpful to your small business journey!
Your own Personal Network
I have found so many clients just from living my business out loud. I talk about my work constantly, and while I never (ever!) pressure anyone I know personally to work with me, they often do. And those are some of my favorite projects and clients. I wouldn't recommend soliciting all of your friends and family directly, but if they know what you do, that you do it well, and how much you love it – they will likely come calling. Or refer you to their friends when they can. I can't stress enough how valuable your personal network can be if you're being authentic and open with them about your business.
I hope this helped you think about how to start your stationery business! I did a lot of things by accident, and want to save you from making those mistakes or learning from trial and error. My course, From Start to Suite, is designed to catapult your stationery business from creation to success! It'll walk you through the whole process of designing and producing wedding invitations, setting up the business, and working with clients. It's everything I wish I had when starting out over 7 years ago!