Cotton paper, Eggshell invitations, Deckled edges, Duplexed invites, what the what? Wedding invitation papers are confusing. If you've started looking into your wedding stationery and invitations, you're probably getting a lot of new terms thrown at you. Turns out, a seemingly-simple paper wedding invitation is not actually all that simple. And definitely no two are the same!
One of the trickiest parts to figuring out your wedding invitation papers is understanding the differences between paper types. With the increase in ordering invitations (and well, really everything) online over the last several years, many people are not getting the chance to physically touch, feel and see the different paper options before they order. So, if you (like me) previously thought all whites were the same, or that Eggshell was just a color, then you are in for an eye-opening post!
I have put together a comprehensive guide to wedding invitation paper types and terms – complete with photographs – that will help you wade through the jargon and choose the right paper for your wedding invites!
Are you a stationery designer? I list out all of my favorite Print, Envelope and Paper vendors to use for invitations in the Print + Paper Vendor Guide! It contains over $200 worth of discounts you can access too. 
Wedding Invitation Paper Types
First things first, we need to discuss how wedding invitation designers, mills, and invitation printers identify paper. You may think there are only a couple different types of invitation paper, but it turns out there are thousands and thousands (and that's just in the "white" category). When I am ordering things from my printer, I have to identify the exact paper I want in 6 (and a half!) different steps.
Wedding Invitation Paper Identification
1. Paper Mill The mill is basically who makes the paper. Think of this as the brand. If this is a dress we are identifying, the mill would be Hayley Paige or Vera Wang, for instance.
2. Line The line will be exactly which "type" of paper you're getting from that mill, and typically refers to a set of papers that are similar. The line would probably be the season or collection if we want to continue the dress metaphor.
3. Wedding Invitation Paper Weight
Cover or Text: Here's where the half comes in. Cover weight is basically cardstock, and text weight is more like printer paper. Usually anything above 100# is cover and below is text, but it's sometimes important to identify this. For wedding invitations, you will almost always want cover as it's more luxurious.
Actual Paper Weight: Weight is…well, paper weight is very confusing. I could explain it all but, just like dresses, each weight from a different brand means something different. In the same way that a 6 from Vera Wang can fit differently than a 6 from Hayley Paige, a paper weight from one brand will be different than that from another brand typically. Paper weight in the US is measured in #, which is called a pound, not a hashtag in this case! Standard cardstock *typically* runs from around 100# -150#, and you'll see your "deluxe" or extra thick upgrades coming in around 160#-240#. My house stock is 120# for invitations.
4. Color YAY, a word I understand! << This is what I thought when I first became a wedding stationery designer too. However, there is never an easy answer. All colors from different paper mills are slightly different, which means it may be tough to find the right color match unless you scour a few different sources.
And if you thought white was just white, then you have got another think coming as my grandmother used to say. There are approximately 8 million different shades of white invitation paper according to my very made up statistics. This is why many designers will pull out giant paper swatch books to compare when you meet with them. It's also why ordering "white" papers from different places to make DIY invitations doesn't always work out as expected. The trick with color matching paper is to stay within the same product line or mill, and you should be okay, although of course the only surefire way to know your colors match is to order samples of your wedding invitation papers.
5. Finish The finish of the paper is all about the ingredients and the making process. We will go over the most popular wedding invitation paper finishes in a little while, but think of this as how the paper feels when you touch it. In dress terms, you'd say silky, satin, linen, etc.
6. Wedding Invitation Paper Size And of course, size. This one's obvious so we won't dwell on it. Typical wedding invites are what's known as an A7 or A9 size, and reply cards are known as A2 or 4bar—the most important part of the sizing issue is just making sure everything is a little smaller than the corresponding envelope so that it fits inside! For instance, an A7 card is 5×7″, but an A7 envelope is 5.25×7.25″.
PHEW. Okay, that was a ton of information. And all of that just to identify one type of paper. Typically, you won't need to know the mill, line, or exact weight of your paper, and size as well as color are often determined for you when you order, as there are industry standards. This only leaves the finish, which is often times the only part you'll need to determine as the client!
If you see words like cotton, linen, eggshell, smooth, or felt, these are all paper finishes. There are a ton more that I haven't covered, but a general rule is that if there is a term that sounds like a fabric, it's probably the name of a finish. Here are a few of my favorites.
Smooth Wedding Invitation Papers
Smooth is…well…smooth. That's the best way to describe it. Smooth wedding invitation papers have a clean, crisp feel to it and you can run your hand over it without feeling any texture. Smooth paper is perfect if your invitation has photographic elements, as textured paper can sometimes obscure the image a little. Smooth papers can be glossy or matte, but if you print a large area on smooth paper it typically gives it a glossy-looking finish. As a bonus, smooth invitation paper is generally the most cost-effective option that we will discuss! I typically use smooth paper for envelope liners, belly bands, and photo printed Save the Dates or Holiday Cards.
Cotton Invitation Papers
Cotton is the most luxurious standard type of paper you will come across for your wedding invitations. It is typically fairly thick and made from cotton seed fibers—unlike other papers that are made from wood fibers. It has a little more durability, and honestly it just feels really nice when you touch it. Cotton can hold up to watercolor, and takes gold foil like champ. Cotton paper is typically a favorite of letterpress printers, for the deep impression that it gives. As you can see, there is more texture to cotton paper than eggshell or (duh) smooth papers.
As a bonus, cotton papers can be more eco-friendly than others. Here's a blog post where we discuss Eco-Friendly Wedding Invitation options!
Eggshell Wedding Invitation Papers
I used to get really confused when I first started designing invitations, because I thought eggshell was a color. Way to go, Laney. Luckily, I figured out quickly that eggshell is basically the best of all worlds when it comes to papers.
An eggshell finish adds a little texture to your wedding invites, but without the price increase of cotton paper. It is a great in-between for cotton and smooth papers without breaking the bank, and surprise, it's available in a couple different shades of white to match the rest of your suite. Double thick eggshell also offers a nice imprint for letterpress or gold foil, if you want to combine those techniques with digital (flat) printing. If you order pretty much anything digitally printed from Design by Laney, chances are it will be on eggshell paper, as this is my house stock!
Linen Paper
Linen paper is very unique! Its texture is a lot like linen so it has tiny little cross-strokes that are both vertical and horizontal. Linen paper is beautiful and luxurious, but can be a little too textured for some designs. I find linen is best paired with a very simple, classic design like the one below.
Handmade Paper Wedding Invitations
Handmade paper is in a league of its own. It is, like the name suggests, made by hand, every single sheet. There are many different brands, and each brand as well as each individual sheet will be slightly unique. Typically, handmade paper has what's called a deckled edge, which many people refer to as "torn edges", from the mold that is used to make it. Handmade paper has more texture than any of the other papers, and has a decidedly romantic and organic feel to it.
Handmade paper wedding invitations will need to be printed by a specialty printer. It's tough to print on them digitally, but some designers can do it (including us!). Otherwise, you can gold foil stamp or letterpress print on your wedding invites on handmade paper.
With the increase in popularity of handmade paper, there are a lot of makers offering beautiful colors now! You'll see a dusty blue handmade paper with calligraphy below.
Wedding Invitation Paper Size
As we mentioned above, the most common sizes for wedding invite papers are:
Wedding Invitation size: A7 (5×7″) or A9 (5.5×8.5″)
Save the Date size: A7 (5×7″) or A9 (5.5×8.5″)
RSVP Card size: 4bar (4.875×3.5″) or A2 (4.25×5.5″)
Invitation Envelope size: A7 (5.25×7.25″) or A9 (5.75×8.75″)
RSVP Envelope size: 4bar (5.125×3.75″) or A2 (4.5×5.75″
Wedding Invitation Paper Thickness
The biggest difference between a cheap wedding invitation feel and a luxury wedding invitation feel is the paper thickness. The thicker the better…generally.
Not every home printer can handle over 100# thick paper, so if you're planning to DIY your invitations, then you may have trouble printing. You should still always try to get 100# paper or heavier for your invitations, or use layering to make them feel thicker.
Double-thick papers run around 200-240# and are extra luxurious! This is especially important for letterpress printing or gold foil stamping as the imprint into the paper will be much more obvious on a thicker paper.
With budget in mind, I like to do a main invitation card on double-thick paper, and then the rest of the pieces on single-thick paper. It helps the invitation stand out, and keep costs down.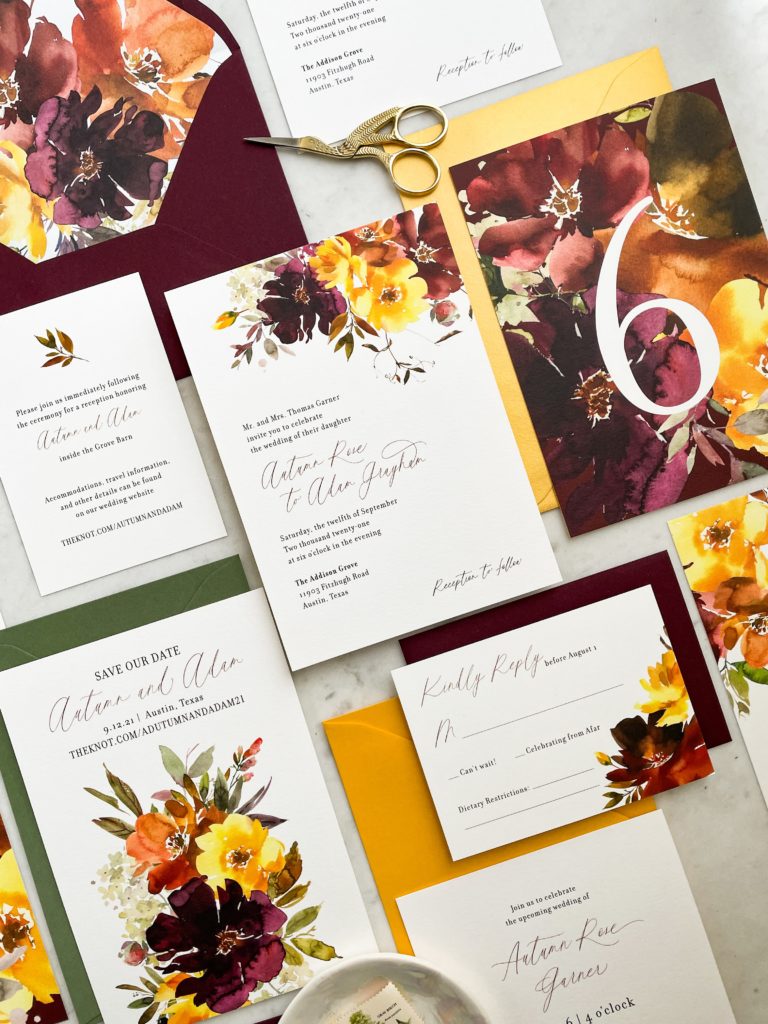 If you're not in the United States, you may use GSM instead of Pounds to measure your paper weight. So a 100# paper is generally at least 250gsm or heavier. For your wedding invitations, you'll want 250gsm or heavier paper thickness.
No matter what, for invitations, you want to use "Cover Stock" not "text weight" paper. Cover stock basically means it's made to be the cover of something – a text weight piece is like normal printer paper that you might think of. And it's NOT going to stand on its own as a wedding invitation card!
Wedding Invitation Envelopes
Wedding envelopes are a similar story to wedding invitation papers. There is such a thing as a thick, cardstock envelope, but they don't fold well, can't fit through printers, and are expensive both to buy and to mail. So for wedding invitation envelopes, we stick to thinner papers, around 90# weight.
However, if you purchase wedding envelopes from a craft store, you may find them a little too thin. Here's my favorite wedding invitation envelope supplier with a ton of envelope colors to choose from!
When it comes to addressing your envelopes, make sure you choose a lighter color for a dark addressing pen, unless you have access to a white ink printer or white ink calligraphy. My favorite standard pen to use is a Micron Pen!
Envelope Liner Paper
What's interesting about envelope liners is that not all envelopes are created equal. So if you purchase envelope liners from my shop, for instance, they won't necessarily fit envelopes from anywhere. My envelope liners will always fit envelopes from this supplier, by the way.
Just make sure you check with whoever is cutting your envelope liners to make sure they'll fit your envelopes!
What type of paper do you use for envelope liners? This is a time when you do want to use a thinner paper, actually. I use smooth 70# text weight for my envelope liner designs.
Keeping the paper thin means your envelope can still fit everything you want inside, and it doesn't get too expensive to mail.
Clear Paper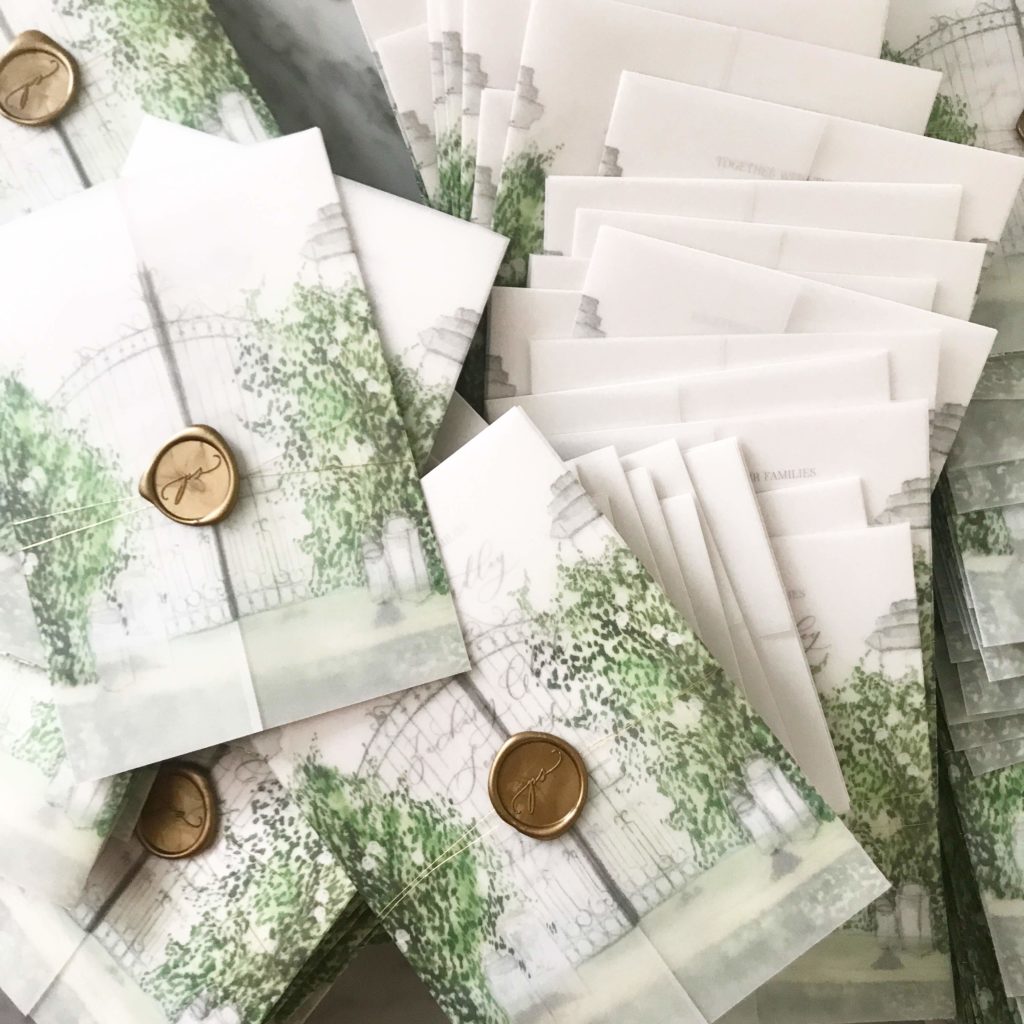 What is this clear paper that people use for wedding invitations all the time? It's called vellum paper. Technically, vellum is a finish, not a "color". But in general, if you see vellum paper listed, then it will also say translucent.
If you're printing on vellum at home, you need to make sure you get inkjet vellum OR laser vellum. Inkjet vellum paper won't work on a laser printer, and vice versa.
I like this vellum paper for wedding invites (which comes in inkjet or laser, so pay attention when you buy).
You want vellum to generally be thinner, because it's often used as an overlay or wrap. It's really easy to cut, and if you want to fold it, use a bone folder to score it first.
Wedding Invitation Paper Suppliers
I've compiled a list of ALL my favorite paper suppliers and printers in this Print + Paper Vendor Guide for stationery designers. If you're looking for DIY wedding invitation papers, then you can find a great color selection for paper and envelopes at this website.
It'll be simplest to let your printer find paper suppliers if you're going to have your invitations printed commercially. Ask your local printers if they are good at invitation printing.
Cheapest place to print wedding invitations? If you're design-savvy then the best quality I've seen printed from the "cheap" options is with VistaPrint. If you need a little extra help, our Semi-Custom invitations start at $5 apiece printed. You won't have to worry about design, fonts, trim marks, sizing your invitation pieces, wording, etiquette etc. – we'll handle all of that for you!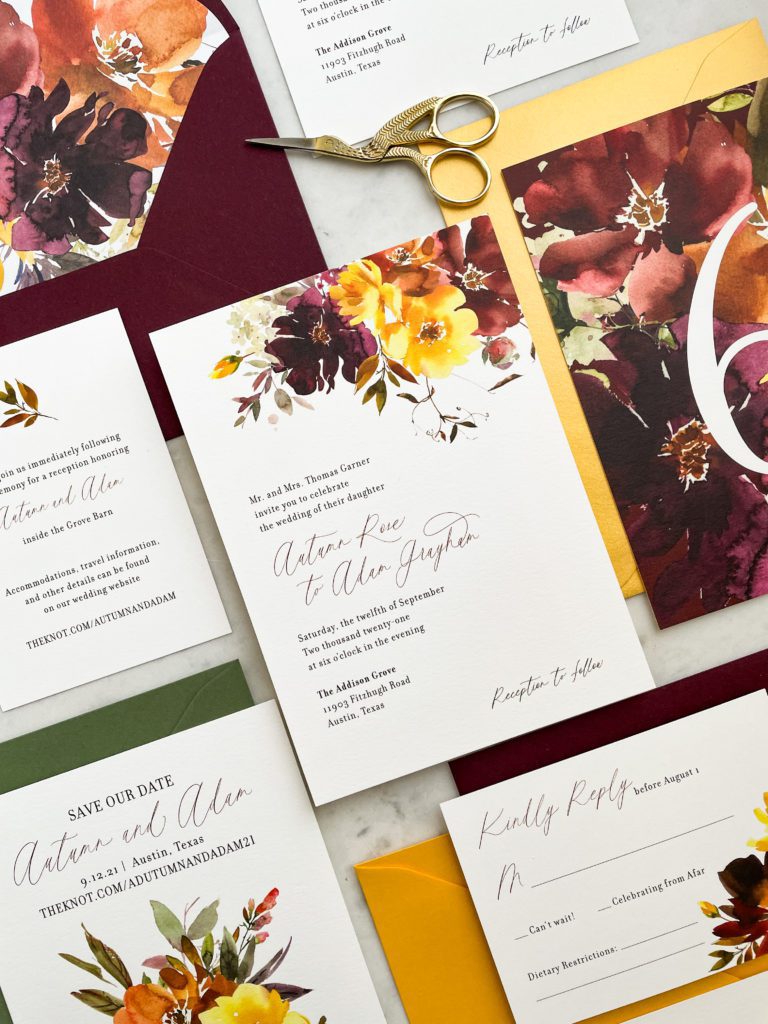 Wedding Invitation Papers for Printing
Which papers are the best if you're planning to print wedding invitations at home? Here are my tips:
Get something around 100# thickness. This is about as thick as most home printers can handle without jamming.
For thicker paper, paste your invitation onto a slightly larger backing that's also 100# – home-made double thick paper! Make sure that larger backer is what fits in the envelope.
Keep your designs simple. Color matching is difficult with home printers (especially inkjet printers) so you'll have better luck with solid colors of text and not many bright, colorful elements.
Cutting is one of the trickiest parts of the process! I often use FedEx or Office Depot for stack cutting my prints down to size.
Buy a ton of extra! I buy 10-20% extra and I'm a professional. You'll need it, I promise.
Where to Buy Invitation Papers
Again, this paper website is a great retail, starter paper and envelope supplier. You can purchase wedding invitation pockets, invitation belly bands, pre-printed cards, pre-cut 5×7 wedding invitation paper, lots of different colors, even acrylic printed invites.
If you'd like a list of wholesale suppliers for wedding invitation papers, and all the paper suppliers my team uses to create thousands of invitations every year – check out the Print + Paper Vendor Guide. It contains a curated list of specialty printers, handmade paper suppliers, large paper suppliers, and even vendors for things like acrylic, vellum, fabric, etc.
This guide was created after years of trial and error, misprints, mishaps, and mistakes that cost me a ton of time and money! I want to save you that time by providing my tried and true vendors with honest thoughts on all of them.
Okay, are we confused yet? I hope that these descriptions have helped you wade through some of the new terminology that you're seeing with your paper selections. If you see any terms that are still unfamiliar, feel free to ask us questions in the comments section below and we are happy to provide some advice!
There are plenty of sites that use slightly different internal terms, as well as some that we haven't covered (believe me, you'd be reading for days if we covered everything), so we would love to help you pick out the right wedding invitation paper for you!
Shop our Semi-Custom Wedding Invitations or inquire for Custom