What exactly are envelope liners? We all LOVE them, because they're undeniably beautiful, but do envelope liners serve an actual purpose? That's what we're going to discuss today.
First of all, if you're not sure what envelope liners are, check out our post here! And our Print + Paper Vendor Guide will tell you where we get ours printed and how!
What are Envelope Liners?
An Envelope Liner is a piece of paper that's attached to the inside of an envelope (often for a wedding invitation) that is either a solid paper or has a design of some sort on it. While you can print on the inside of custom envelopes, most envelope liners you'll see are a separate piece of paper entirely that's been attached to the envelope.
What is the Purpose of Envelope Liners?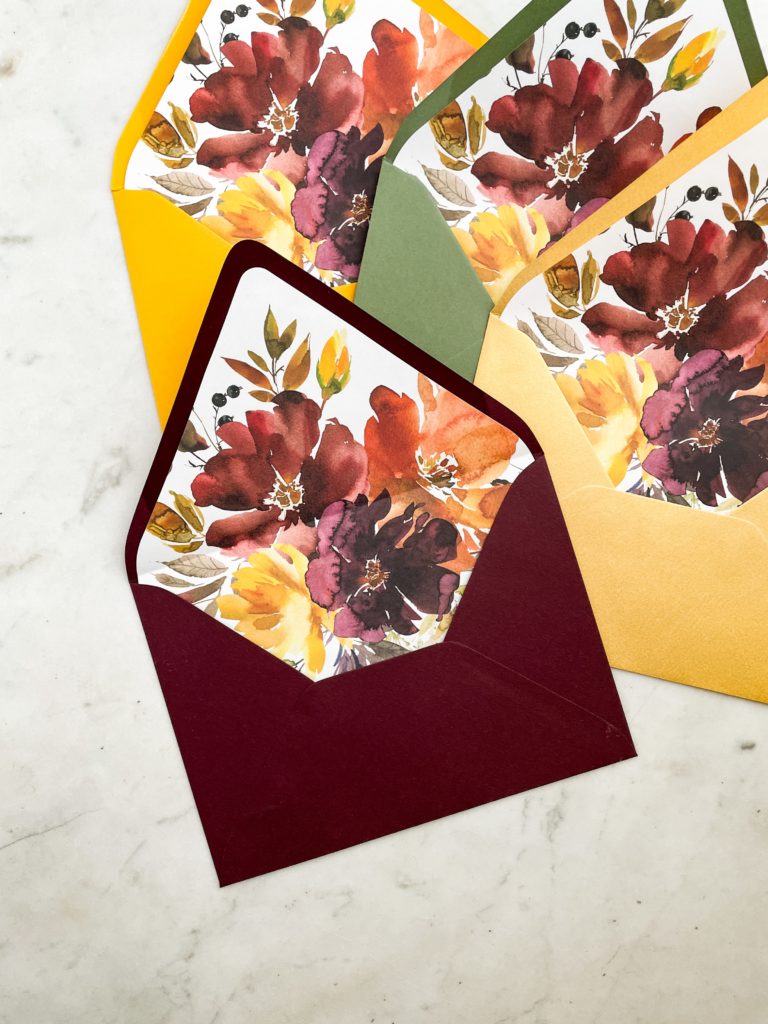 Do envelope liners have a purpose? The answer is – just like all things in this world – kind of. Or maybe. Or sometimes. In theory, when it comes to stationery, the purpose can be as simple as "it's beautiful". Yes, wedding invitations are functional pieces, but they also are beautiful, hand-crafted, artisan pieces, so even if you just happen to like envelope liners, they're serving some type of purpose. Especially if the design helps your guests understand what to expect more at your event.
But outside of aesthetics, envelope liners are around to help protect your pieces in a couple of ways.
Do You Need Envelope Liners?
One common issue for invitations is that the print or paper colors can rub off on other pieces – especially if you're using a paper like cotton. We've got a whole post on Invitation Papers that you can check out here!
So if you have different colored papers, you may want to consider what other pieces they're touching in the suite – a vellum or tissue barrier can help keep things pristine! The envelopes are a bit tougher though, so that's where envelope liners come in. If you are using colored envelopes and white (especially cotton) papers, a liner printed on white paper can help avoid color transfer in the mail.
Protecting Invitations In the Mail
The other way envelope liners can come in handy is just that it's an extra layer of protection in the mail. Envelopes do the best they can, but if you've ever had a piece of mail arrive a little…less than perfect, then you know you don't want that to happen with your wedding invitations.
Envelope liners add a little extra weight and thickness, as well as just another layer between your gorgeous invitation and the outside world. If the envelope gets torn a bit, the liner may save your invitation!
Learn more about mailing your wedding invitations:
Do Envelope Liners get Ripped?
People often ask if the liner will get ripped upon opening. Well of course that's a possibility. We almost always use liners with Euro Flap envelopes that have a pointed, deep-V flap. This encourages guests to open the envelope from the flap instead of from the fold, so it prevents liner tearing.
We also design our liners with that in mind – so they can still make a statement if it happens to get torn! Plus, wouldn't you rather the liner get torn than the invitation itself? Yep, me too!
Overall, our favorite part about envelope liners is that they add a unique touch to the invitation experience. They'll make your guests immediately feel special, and basically shout "This is a luxury event you're being invited to!" right when they open your invites. But we might be biased since creating gorgeous invites is our full-time job. So it's an extra bonus that they can serve this functional purpose as well! 
Where to Buy Envelope Liners
Let us know what questions you have about envelope liners in the comments – we'd be more than happy to answer! We have a Collection of liners you can purchase with our matching suites, or on their own for DIY-ing!  
One thing to note about buying envelope liners is that every envelope from every different supplier might be shaped slightly different. So the same envelope liner may not fit into all V-flap envelopes! We recommend ordering envelope liners with envelopes from the same supplier (ours all have that option), ordering a sample to make sure it fits, or just reaching out to your designer to ask them if their envelope liners will fit in the envelopes you purchased.