What are wedding details cards? So far, we've covered most of the "required" aspects of the invitation process in our All About Invitations series, but there are a million other things you can do with your invite suite to help your guests and add some extra fun! One of the most common ways to do this is with an insert card, details card, or accommodations card – but we often see couples being confused about the right information to include on your insert card or details card. Keep reading for all the info about how to create the perfect details card for your wedding invitation suite!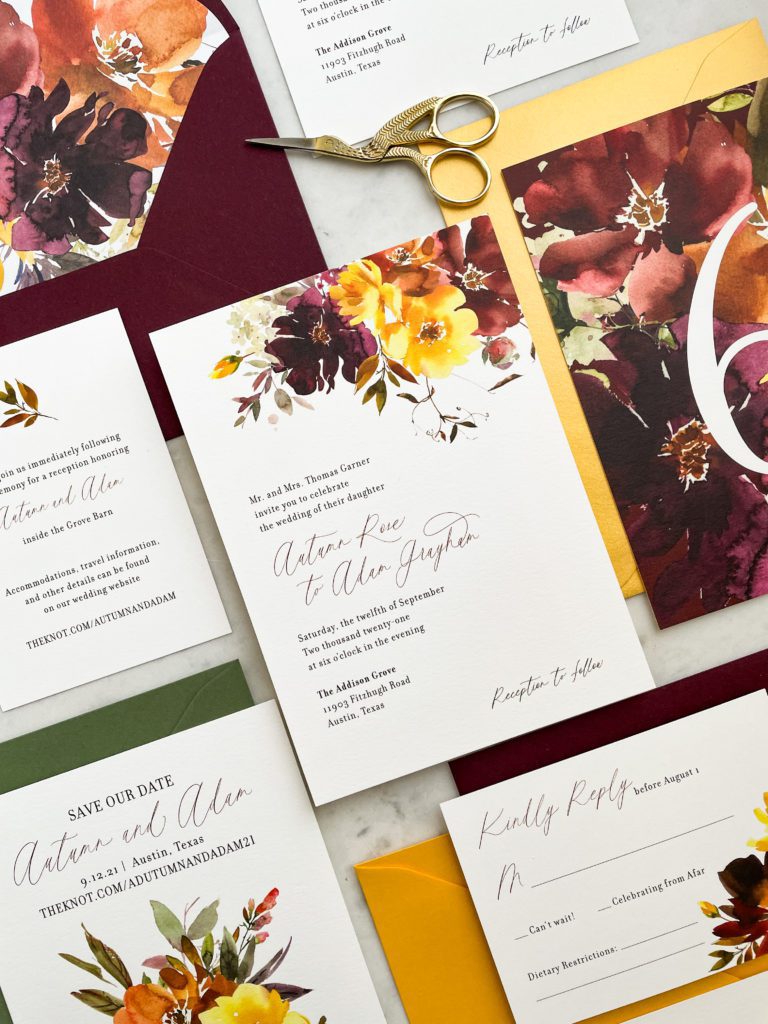 What is a Wedding Details or Insert Card?
A details card or insert card is an extra piece that you include with your invitation suites to include additional information that isn't on the invitation or reply card. Inserts are used in a few different ways, but mostly to draw attention to anything different or unexpected about a wedding that your guests will need to understand or prepare for. There is typically a wedding website these days, and the details card can include that address as well as any information that you think people may miss if they don't look at the website.
For instance, you can include accommodations or transportation instructions on your details card. You can tell people if they need to book their hotels early, due to a large event in town around the same time, or you can let your guests know if only adults are invited to the wedding reception. These are all examples of things to include on your details card.
When do you Send an Insert Card?
Insert cards are generally sent alongside the wedding invitation, but they can be sent in a Save the Date or other type of invitation if needed. We recommend an insert for anything that's out of the norm – for instance, if your wedding takes place on Super Bowl weekend in the same area as the Super Bowl, you may want to include an insert in your Save the Date so people know to book their hotel ASAP.
True wedding invitation etiquette says that you should only include the wedding Ceremony information on the main invitation, so if your wedding reception is in a different location, it's customary to send an insert card with the Reception address and timing as well.
You should also send an enclosure card with your wedding invitations to invite guests to events outside of the main wedding ceremony and reception. For instance, if you're having a brunch the day after your wedding – an insert card is where you'd invite people. If certain people aren't invited to all of the events, you can mix and match insert cards depending on which ones each guest receives.
What Information goes on a Wedding Insert Card?
Like we said, anything out of the ordinary should go on an insert card or details card. Some common information we see included on details cards is:
Wedding Website Address (+ Password if needed)

Wedding Accommodations or Hotel Room Block Information (usually the name of the hotel, room block name, and phone number or web address used to book)

Transportation Information

Attire

Parking or Driving Information (if this is out of the norm or difficult)

Special instructions for the venue/weather/time of year
We don't love including a registry on your invitations, but if you are going to, an insert card is definitely the way to go!
If there are any additional events, such as a Sunday Brunch or Welcome Reception, you can use insert cards to let people know – plus, if not everyone is invited to each event, then an insert card is a great way to pick and choose without having to print different versions of your invitations.
Rehearsal Dinner Info – sometimes this is sent by whoever is hosting the rehearsal dinner, since that may be different than who is hosting the wedding. But you can absolutely can include it with the rest of the suite (you can indicate who's hosting with the wording on the card).

Some people like to include their favorite love quotes, poems, or other fun inserts – it doesn't have to be purely informational! Of course, map inserts are fun too, and we have a post all about Invitation Maps here!
How to Design a Details Card
Start with any information you want to include, and decide if it's all going on one insert card or multiple.

We do recommend including the website if you have one! It can be as simple as "For more information, please visit our wedding website at…."

Does your card have a theme? If it's all Accommodations-related then you can use that as a heading. If it's all about Sunday Brunch, then title it that. If it's a little bit of everything, then we like "Details", "More Info", or even something fun like "A few other things…"

Choose the size and shape! Since an insert doesn't need to fit in an envelope, it can be any size or shape you want! It should be smaller than the invitation, to keep the hierarchy in order, but otherwise anything goes. You could do a circular card, cut off a corner for a fun geometric touch, or even make an extra tiny card if you like miniature pieces (we love them!).

Design Elements – Same on this part actually. You can make a details card a standout design piece, or keep it more simple if you have a lot of information on it!
Or you can always let us help you design the perfect details card for your wedding invitations! Shop our semi-custom designs here, and you can add a details card to any of the existing invitation designs!
Budgeting Tips for Wedding Details and Insert Cards
Details and insert cards are typically not extremely expensive to begin with, as they are smaller and simpler than your other cards, but you can use them to help save money in a few ways!
Invite people to other events – Doing this with an insert card can save you the cost of having to print another job with envelopes, addressing and stamps of their own.

Print on single-thick paper -The more inserts you have, the more your suite will look luxurious on its own. You don't need to go double-thick paper if you have more inserts!

Use both sides – It's typically not much more to have a double-sided print, so use both sides to get the most bang for your buck – add information or print a cute design on the back to tie the suite together!
No matter what information you want or need to put on your wedding insert cards, you can't go wrong with more pieces in your suite. Inserts are pretty much limitless and we love creating them – it gives us room to spread out, design-wise (and photographs really well!). Next week we'll be talking more specifically about one of our favorite insert types – maps!
Shop our Wedding Invitations – they all come with a matching details card in the 6pc suite!