The most important thing about a wedding are the invites….just kidding! The most important thing is of course celebrating your love together with all of your favorite people! But in order to get them there, you have to send out invites (which kiiind of makes invites more important, right?).
One of the most common questions we get asked by brides is "When should I send out wedding invites?" The average couple spends 13-18 months planning a wedding, so the timing of when to send invites can get a little confusing. Luckily, we have some basic wedding invitation timelines to help you figure out when to start reaching out to invitation designers and planning your designs! Take a look at the guide below to help get your invitation timeline moving along without an ounce of stress!
SAVE THE DATE TIMELINE
When should you mail Save the Dates? Etiquette says that you should send out your Save the Dates at least 6 months before your wedding, and we suggest longer for destination weddings, or weddings where most invitees are from out of town. We like to say there's no such thing as too early for your Save the Date cards, but it's a good idea to stay within the year of your wedding, just so no one accidentally shows up in 2022 for a 2023 wedding!
These days, couples are sending Save the Dates earlier and earlier, as wedding invitation dates are getting booked quickly!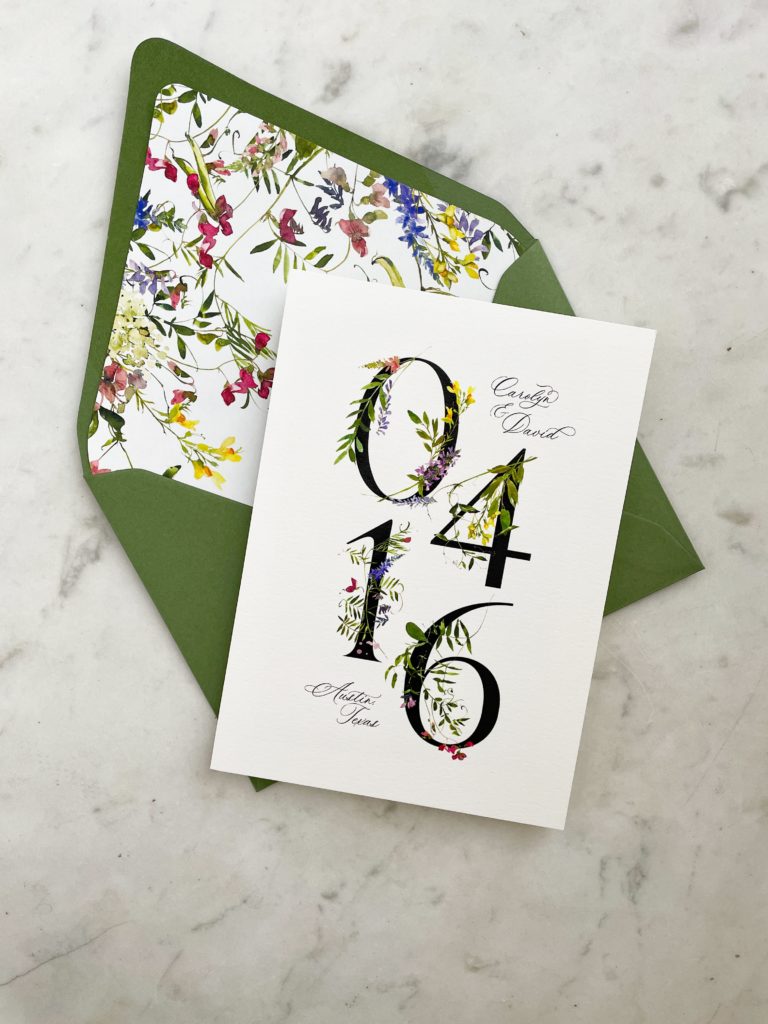 Save the Dates are typically quicker than invitations, so if you are hiring a custom Save the Date designer, you should schedule about 1 month for design and production. However, if you are looking for more elaborate Save the Dates, then refer to our invitation design timeframes below!
Our Semi-Custom Save the Dates, take a little less time than custom, and can be ready in about 3 weeks usually.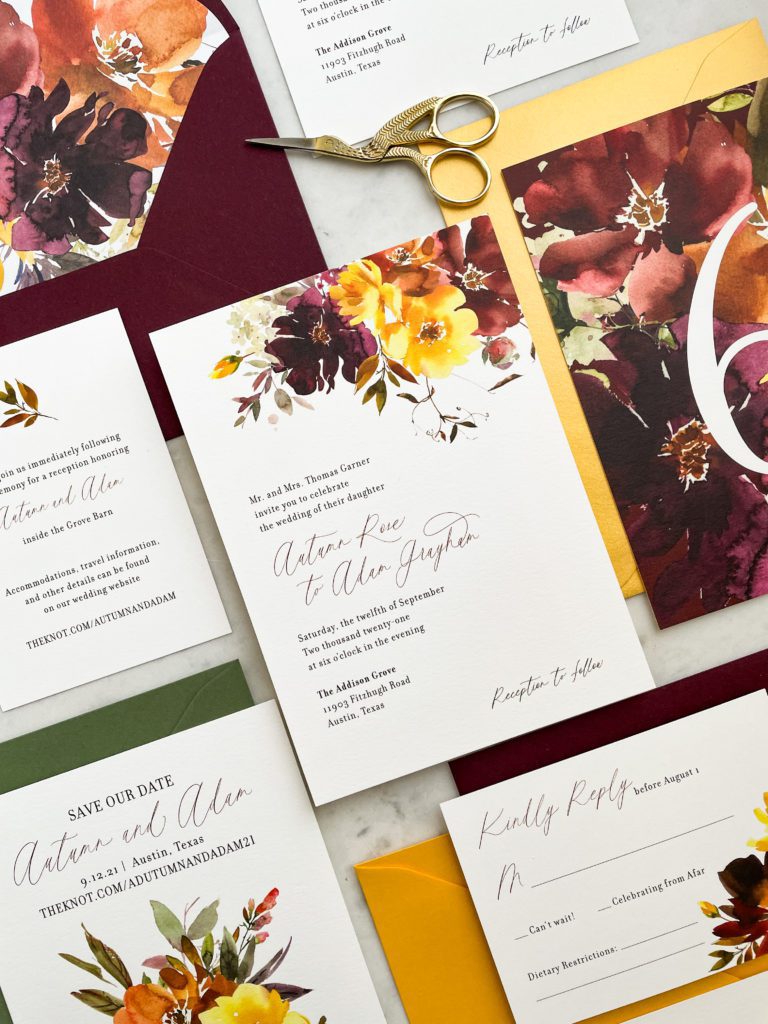 WEDDING INVITATION TIMELINES
Okay, on to the most important part – the invitations! Wedding invitations traditionally go out 8-10 weeks before the wedding date, but we're seeing that timeline increase lately. We set our delivery dates about 10 weeks out, so there is time left to check everything twice, seal the envelopes, and mail the invites. Pro tip: take a full suite to the same Post Office you'll be mailing from to get it weighed for correct postage!
Wedding Reply Date
The reply-by date for your guests is usually 1 month before the wedding, which gives you time to arrange seating and follow up with guests whose reply cards were "lost in the mail"…a surprisingly large percentage usually!
You should give your guests at least 2 weeks with the reply card, and allow for about 2 weeks for mailing to be safe. So if your wedding is September 1, you'll want replies by August 1, and should try to mail no later than July 1!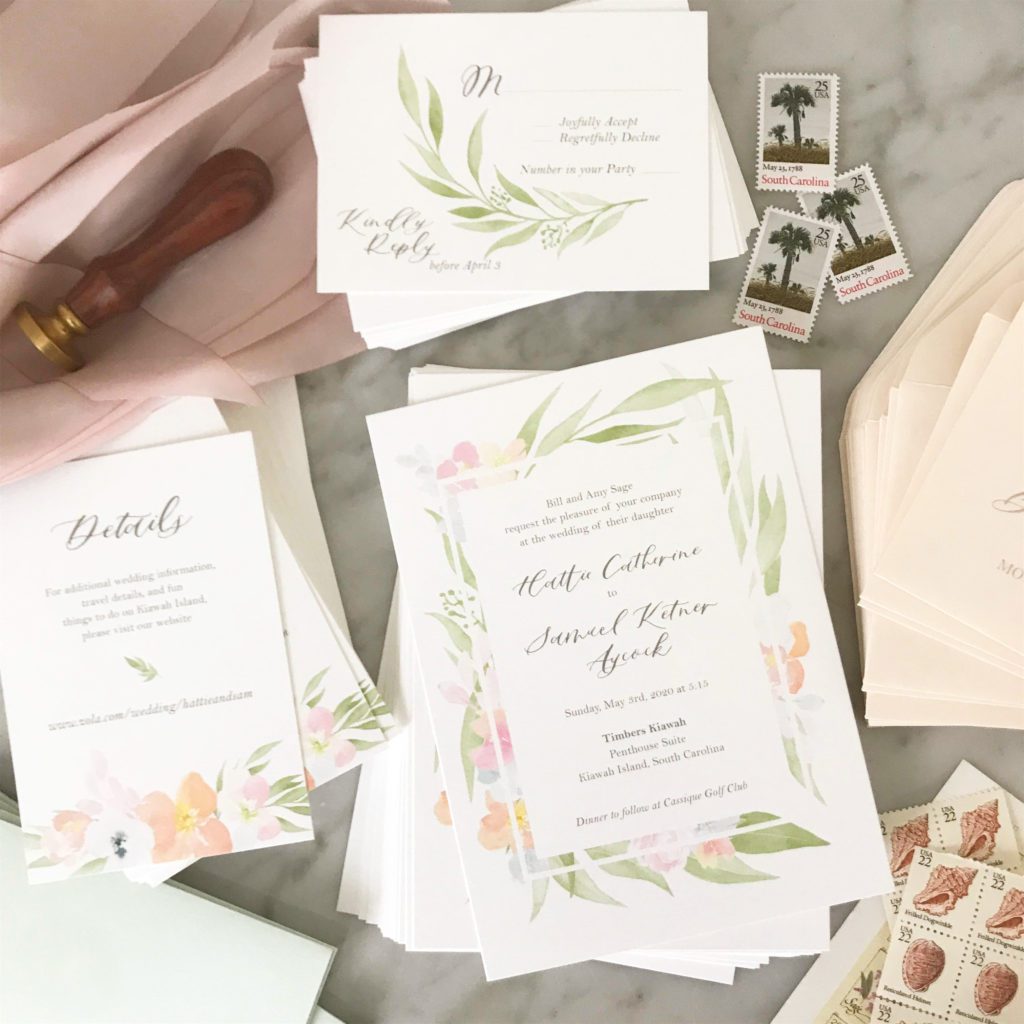 Okay, so send wedding invites about 2 months in advance! That's a long way away when you'll be planning this wedding for a year! Alright, who are we kidding, you've been planning this since you were 8…which makes 2 months out seem like a lifetime from now.
However, depending on complexity, invitation design and production can take anywhere from 2 months to…well, the limit does not exist. For custom, digitally-printed invitations, with printed addresses, you are looking at the lower end of 6-8 weeks for design and production. Anything additional (letterpress, foil, ribbon wraps, liners, calligraphy, etc.) can potentially add more time to that invitation printing process.
It's important to give your wedding invitation designer time working through your design, because we do not simply create magic. At Design by Laney, we create an initial design and then leave it alone for a day or two, coming back with fresh eyes. This is how you will get that custom, unique design that is just right for you and your partner, as well as the perfect addition to your Big Day!
When to Book an Invitation Designer
You will need some information about your wedding before beginning the invitation design process, so we do recommend booking your venue, deciding on your date, and going through at least one design meeting with your planner before starting on your invitations. However, as soon as you have an idea of what you like, we can get you on the calendar.
You will also need to take some time to create at least a preliminary guest list. If you want to save some time on the back end, type your guests in exactly as you would mail them a letter – "Mr. and Mrs. Jonathan Snow" for instance, instead of just writing "Jon and Dany". Most calligraphers or designers require addresses in a spreadsheet with each piece of information in a separate column, as in the example below…excuse the corny puns please. If you want formal addressing, you will eventually have to make the "St." and "Rd." into "Street" and "Road" as well as expanding state names, apartments, etc., so starting off on the right track can save you a huge formatting headache in the future. If you have any trouble with formatting names, check out our post on correct addressing etiquette.
You can also download our free Address Template to get started.
Wedding Day Stationery Timeline
When should you start working on wedding day stationery? This can depend on your designer, or if you're DIY-ing, on exactly what pieces you want to create.
A simple menu won't take long, but I've created things as wild as custom shoes, dancefloor wraps, custom fabric pillows, etc. These things obviously take more time.
The standard wedding day stationery includes the following:
Menus
Programs
Signage
Escort/Place Cards
Table Numbers
These are the most popular items that couples have at their wedding day. They all serve a functional as well as beautiful purpose. But how long do they take to make?
Menus, programs, and signage, I require text for about 6 weeks before the wedding. This allows me time to make a proof, do 2-3 rounds of revisions as needed, and still get them printed and delivered to you in plenty of time.
Escort cards and place cards I generally work faster on, because they require the seating chart to be completed. This doesn't usually happen until about month before the wedding, so I require these 3 weeks before your wedding. However, at that 6-week mark, I require color choices and an approximate quantity so I can order supplies!
Table numbers generally fall somewhere in between – supplies and color choices are made at 6 weeks, but I don't start actually printing or writing them until 3-4 weeks out when the seating chart is finalized.
Your wedding invitation design process will be much less stressful the more time you allow for creation and production. Check some of our other posts for more tips and tricks to make this easier! Do you have any questions about timing or the design process? Post them in the comments below and we will help you out!