Looking for a Honeybook alternative? Have you checked out Dubsado or 17Hats? These are both other Client Management Systems that are popular with creative entrepreneurs. Let's see how Dubsado and 17Hats stack up against Honeybook for your business!
Some of the links in this post are Affiliate links, and I am paid a small commission.
Honeybook Pricing and Alternatives
Honeybook used to have standard pricing of $40/month or $400/year. They have recently changed to provide 3 options though – one is less than $10/month! So if pricing was the reason you're looking for a Honeybook Alternative, you may want to check again.
Also, my Honeybook discount link will get you 50% off this pricing, so that could perhaps change your mind. Get that Honeybook Discount Pricing.
Here's the latest Honeybook Pricing: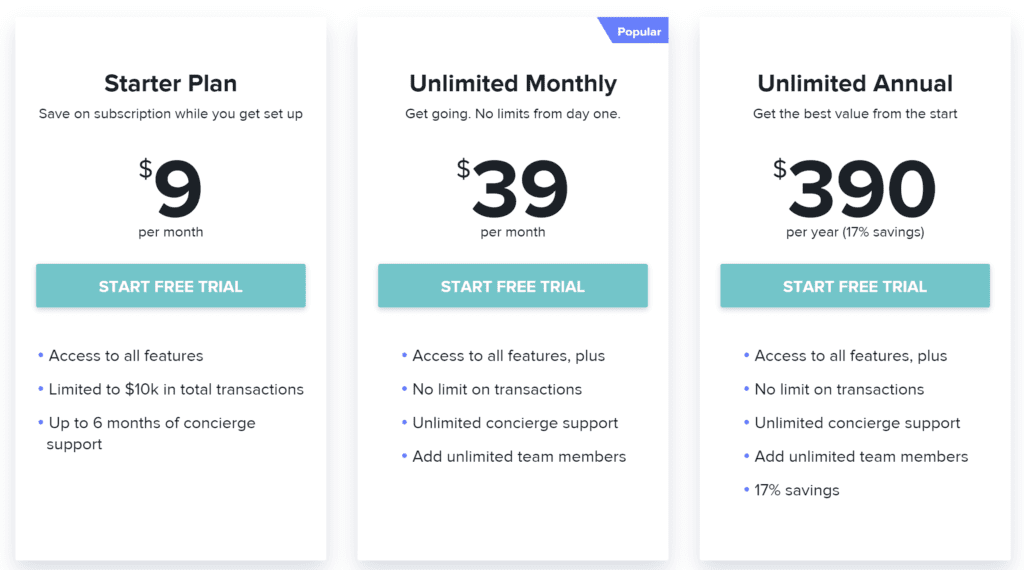 Dubsado Pricing
Right now, Dubsado is $35/month or $350/year. It's a little cheaper than that highest plan with Honeybook, but not a huge difference. My Dubsado discount code will get you 20% off your first month or year.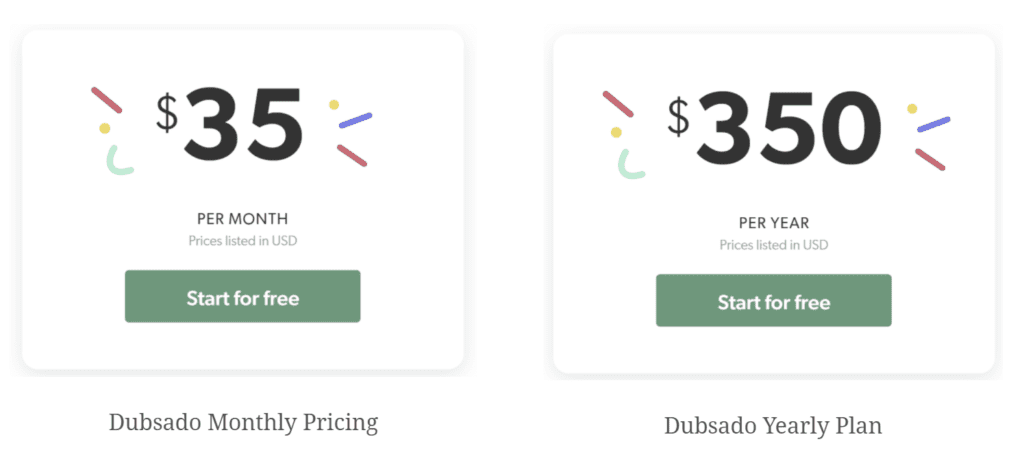 17Hats Pricing
Right now, 17Hats pricing is $45/month or $295/year. They really emphasize their annual plans, and even have a 2-year plan that works out to $17/month (that's the plan I have!). If you use my 17Hats discount link (or code wspvtdpzpz) you'll be eligible for exclusive savings up to 50%.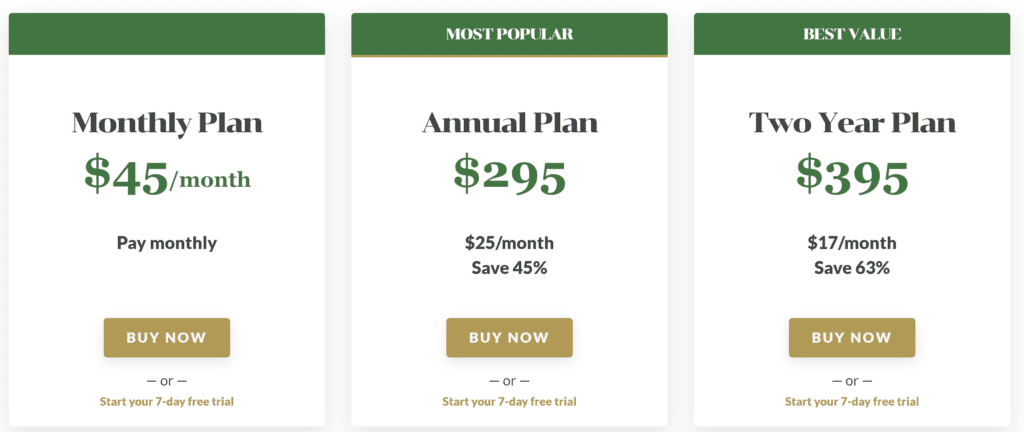 Personally – I would pay over $100/month for 17Hats, Honeybook, or Dubsado. In a second. No matter which system you use, having forms, questionnaires, contracts, and payments all in one simple platform will save you hours and hours every month.
Plus, I can't tell you how often I used to make mistakes before investing in Dubsado. It saves me hundreds of dollars every year, just by keeping things in order where I can always find the latest updates from my clients. I'll share some examples later!
The final word on pricing? Don't let the price difference be a huge factor when you're considering Honeybook, Dubsado or 17Hats. They're pretty similar, so I'd recommend investing in the one that feels right and has the features you need.
Here are my Coupon Codes for Dubsado, Honeybook, and 17Hats:
Honeybook Coupon Code (50% off)
Is Dubsado better than Honeybook?
Dubsado vs. Honeybook: which one is best? It depends on the needs of your business, honestly. I also think 17Hats is a great Honeybook alternative, even if it's not quite as popular for creatives.
All of these systems offer common features like:
Questionnaires
Contracts
Client Management
Lead Capture Forms
Invoicing
Emails
And they'll all save you tons of time and money. Here are some examples of how I use Honeybook, Dubsado, and 17Hats in my invitation design business:
Collect leads and general client information
Set my standard pricing packages, so they're easy to select
Create proposals, invoices, and payment reminders
Design proofs for clients with legally-binding signatures (video provided below)
Questionnaires to keep client information in one place
Send legally-binding contracts
Track my income in various buckets for the year
Charge sales tax on items that require it
…and more!
Here's a video showing you my proofing setup in Dubsado with their subcontract feature:
So what are some of the ways in which Dubsado is better than Honeybook?
Top Dubsado Features
The biggest difference in my work between Honeybook and Dubsado is the subcontract feature, shown in the video above. This allows for a legally-binding signature on my proofs. This is the feature that makes me continue to choose Dubsado for my invitation business.
But not everyone needs this feature, and Dubsado has a lot of other features that are make-or-break for other types of businesses.
Features of Dubsado
Dubsado forms are beautiful and easy to use. All form types have the same "blocks" and capabilities (photos, drop-downs, file uploaders, etc.). Honeybook's forms don't all work the same way, which can be confusing.
As I mentioned, the subcontract feature is a game changer for businesses that require "proofs".
You can manage more than one brand/company on the same account (forms, client info, etc. don't always copy over, but you can have the team do a one-time transfer to your second account).
Public proposals are unique to Dubsado, and allow a new client to create an invoice and pay from a variety of options. Basically, the client can make their own project, pay the invoice, and contract services without you doing anything.
Zoom integration is huge!
The Dubsado automated workflows are much more robust in Dubsado than in Honeybook. I teach a mini-course on this!
Dubsado's free trial gives you unlimited time to get familiar with the system and set up all of your forms, etc. It ends after you have used 3 clients, with no time limit. In comparison, Honeybook's free trial is 7 days.
Top 17Hats Features
In comparison, 17Hats has a more similar look to Dubsado, and feels a little more professional, albeit maybe less customizable.
Simple to set up and get started. 17Hats is your no-frills platform in a good and bad way!
Unlimited brands under one paid account. This is key if you have multiple brands to run and want to keep your information in one place.
Mobile app! Honeybook has an app too, but Dubsado does not have an app. The 17Hats app works on iPad as well, which Honeybook's does not.
Automatic payments with 17Hats. Recurring invoice reminders are possible with Dubsado, but only Honeybook and 17Hats offer the option for your clients to select to be automatically billed. This will help you get paid faster and with less back and forth!
Integrations: In addition to Zoom and Quickbooks (which Dubsado offers), 17Hats integrates with N-Vu, Shootproof, ProSelect, and Fundy. If any of these are pivotal to your business, then definitely go with 17Hats. They also integrate with Greetabl, even to the point of automated Greetabl sends as part of their workflows. It's nice, but in my opinion not necessarily a game changer (unless Greetabl is a huge part of your business).
Setting up 17Hats, Dubsado or Honeybook
The biggest challenge and the biggest benefit of these systems is setup. Once you have your forms, contracts, workflows, etc. integrated within the system, using them is a breeze. But what about the process to set up Dubsado, setup Honeybook, or setup 17Hats?
The key is to understand your process flow for your business. This will show you where you can automate steps, use email templates, and cut down on manual work with your client management system!
Here are a few ways you can use Honeybook or a Honeybook alternative to make your work life easier:
Canned emails – These are perfect if you're sending the same information to clients a lot, or answer questions over and over again. As an example, a canned email thanking a client for signing their contract and providing resources for moving forward would be perfect!
Forms – Forms and questionnaires can collect information from your clients on their project needs. Here's a link to my Invitation Information Questionnaire (please don't submit it!) where I collect information before designing any invitations! It all stays in one place for each client.
Automated Workflows – All 3 of these systems include some automated workflow capabilities. I'd say Dubsado has the best workflow options right now (keep an eye out for Honeybook though!). The workflows truly are magic – you can set emails to automatically send after certain actions are taken! The client signs a contract, and BAM…that thank you email is sent without you even lifting a finger!
Brand Personalization with Honeybook and Alternatives
Setting up your brand in Honeybook or either Honeybook alternative is going to be key for keeping a common feel to your communications across different platforms.
Honeybook Brand Settings
Under Honeybook's Company Settings, you can edit:
Logo
Button Color
Default header image
Portal Subdomain (for instance designbylaney.hbportal.co/app)
Social icons/links
Dubsado Brand Settings
In Branding under your settings, you can edit:
Logo
Button Color
URL mapping is available, but needs to be done through your domain host
Portal Banner/Buttons
17Hats Brand Settings
In the Brand Preferences tab in 17Hats, you can edit:
Logo
Favicon
Fonts (selection only)
Colors for buttons, background, text, accents, etc.
Subdomain (for instance designbylaney.17hats.com)
Text for things like "Submit", "Sign Contract", etc.
Notably, 17Hats is the only system that allows you to easily set a subdomain that shows up in places other than the portal! Dubsado's URL mapping requires some domain hosting knowledge (it's not hard but it's just not as easy as 17Hats). 17Hats is also the only one that allows font changes at this time! Even though the choices are limited, it's still nice to have that option.
If you'd like more personalization options that could be achieved through HTML coding, then I'd recommend going with Dubsado. Dubsado allows for HTML coding in specific form blocks, on all of their forms. 17Hats allows for HTML coding customization in emails, contracts, and signatures, but not on every form type.
Keep an eye out for some more information about HTML customization in Dubsado to get custom fonts, custom forms, and other features in Dubsado! This post is coming soon!
Dubsado vs. Honeybook Workflows
I mentioned earlier that Dubsado's workflows are better than Honeybook's. Here's a look into all the actions you can do in Dubsado's workflow system: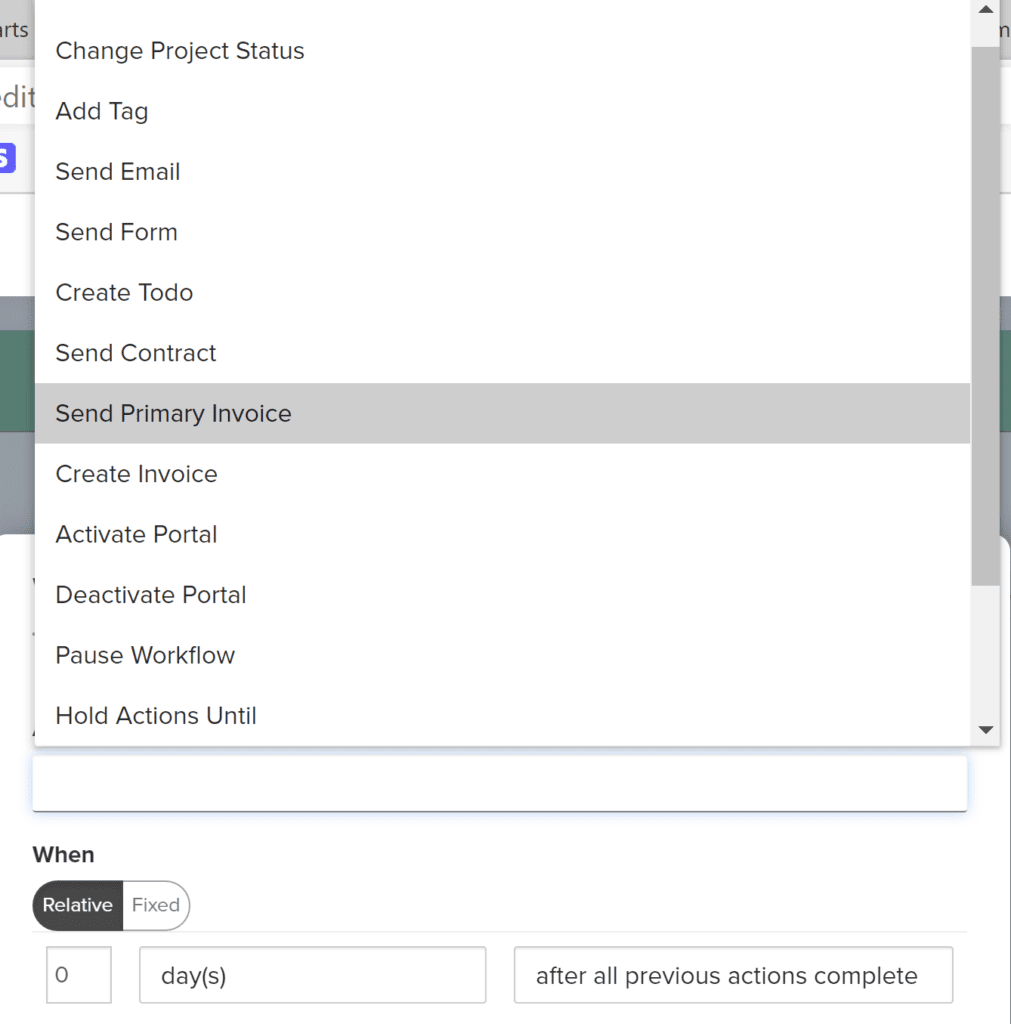 And here's a look at the actions you can do with Honeybook's workflows:

It's easy to see that Dubsado has more capabilities! They have been promising to add conditional logic for a while as well, and it should be coming in the next year. Conditional logic workflows in Dubsado would look like: Send a form > If form is filled out, do X / If form is not filled out, do Y.
What about 17Hats workflows?
17Hats has workflows as well. Here's a look at those action items (not pictured: "Send a Greetabl" and "Archive Project"). You can also add a To-Do or Pause the workflow.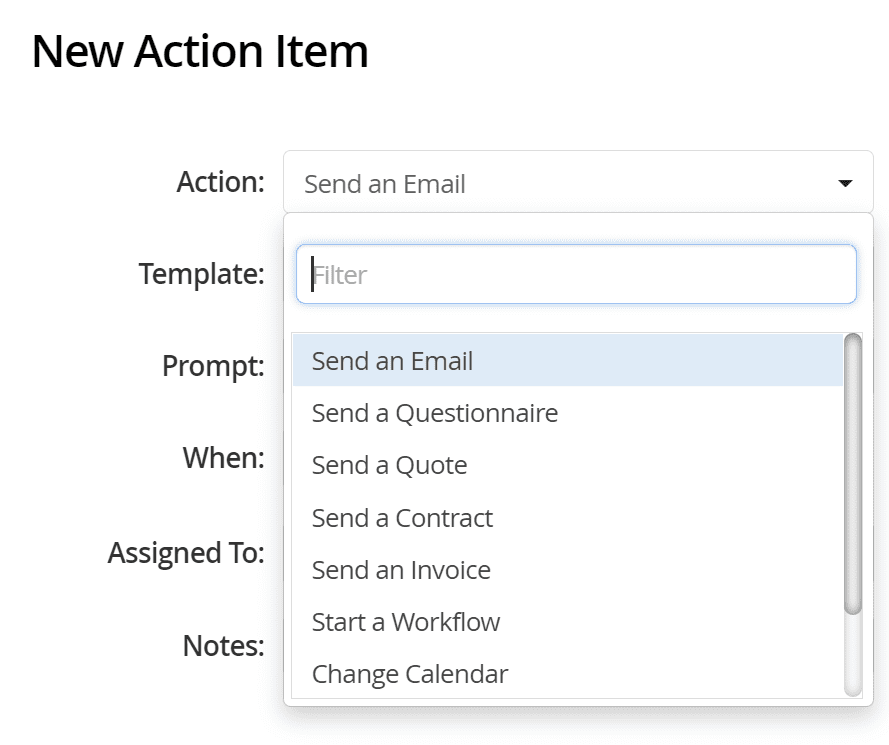 17Hats workflow options are somewhere between Honeybook and Dubsado's. Not quite as robust as Dubsado's workflows, but more robust than Honeybook's, for now.
Personally, I feel like 17Hats has all the options you really NEED in a workflow (plus sending Greetabls which I assume no one really "needs" but is fun nonetheless). I'm looking forward to Honeybook getting more workflow capabilities.
Mobile Apps
If you like to work on the go, but want a Honeybook Alternative, then 17Hats is the way to go. Honeybook and 17Hats both offer a mobile app, and Dubsado does not. At this time, Honeybook's app isn't available for iPad, but 17Hats' app is.
Payment Processing
This is an important question – how does payment processing work for 17Hats, Dubsado, and Honeybook?
Honeybook, as you may know, is its own payment processor. This doesn't mean it's any cheaper (3% on credit cards, 1.5% on ACH or bank transfers), but it can be simpler if you don't have to create an account with another payment processor.
As a Honeybook alternative, Dubsado and 17Hats integrate with other payment processors and you can choose which one you want to use. Dubsado payments use Stripe, Square and PayPal. 17Hats payments use Stripe, Square, PayPal, or Authorize.net.
In my experience, PayPal has a tendency to not treat small business owners well in disputes, so I'd recommend either Stripe or Square in this case. I use Stripe.
We mentioned earlier that Honeybook and 17Hats both allow your clients to opt into automatic payments. These are amazing, and I love them! Just make sure you're updating your invoices before the due dates (if needed).
Multiple Currencies in Dubsado
As of the time of writing this post, in all three systems, you can accept multiple currencies. But you can only display one currency on the invoice at a time.
8/19/20 – A Honeybook developer said this was on their radar, but nothing in the official plans.
5/29/20 – A Dubsado member said that Dubsado will create a new brand for you free of charge (typically $10/mo) if you need to use it to bill a different currency. They'll help copy over forms, but you have to manually create new workflows, etc. if you need this option.
The Best Honeybook Alternative
It's up to you whic Honeybook alternative is right for you. Frankly, you might have read this and decided you didn't need a Honeybook alternative – that it was the right system for you.
But if you are determined not to use Honeybook, consider this:
Is the app something you like about Honeybook? Go with 17Hats.
Do you want more customization? Go with Dubsado.
Do you use Shootproof, N-Vu, ProSelect, or Fundy a lot? 17Hats is your winner.
Are public proposals useful? Go with Dubsado.
Would you like to automate your workflows? Dubsado is more robust, but either is okay!
Do you want clients to have automatic payments? Honeybook is your winner!
Dubsado, Honeybook, and 17Hats Training + Tutorials
Luckily, there are a ton of trainings out there for Honeybook and its alternatives. Each platform has really great customer service and a large help center with videos and posts telling you how to use different features.
Here's my full CMS playlist on YouTube that includes a bunch of in-app videos showing you how to use certain features as well!
I have 2 full courses on Dubsado and how I use it for Stationery Design. Use code DUBS2 if you want to purchase them both to get $5 off that order.
Using Dubsado as a Stationery Designer
Which system feels best for your business? Let me know in the comments which one you're going to try out. And tell me what tutorials could be helpful in setting up Dubsado, Honeybook, or 17Hats!