We're all trying to get more likes on Insta, right? Well, there are a lot of beneficial stats you should be aiming for for different reasons – likes, engagement, comments, website clicks, etc. But if you're trying to improve all of your overall stats, there are a few photos that will pretty much always do the trick, so that's what we're sharing today!
As a general rule, people have very similar taste due to many factors. It's how the entire fashion industry runs, and the stationery world isn't much different. Similar palettes, techniques, materials, etc. are going to be trendy at the same time, and thus will garner more interaction from your followers. Having used Instagram for my business these past 5+ years, I've noticed a few trends that, without fail, attract likes, reposts, website clicks, and most importantly – sales! I keep these 7 types of photos up my sleeve at all times, in case I'm feeling like my feed needs a little boost.

So without further ado – 7 Stationery Photos that are Instagram GOLD.
1. Dusty Rose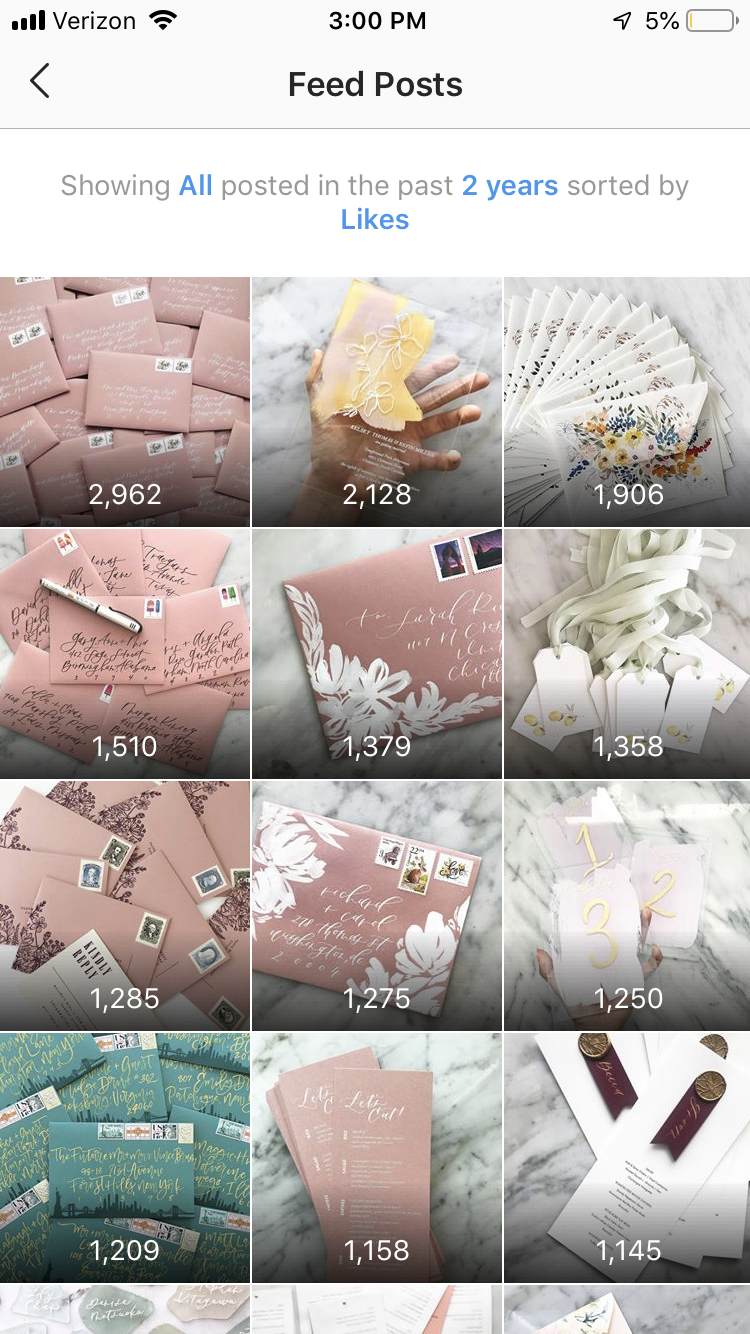 I have a whole group chat about this with some other wedding vendors – because it's actually ridiculous how much the world of Instagram likes Dusty Rose. I was creating 2 sponsored posts for a brand and the first one got less engagement than expected so for the second one I brought in a ringer and used Dusty Rose envelopes. I wasn't even worried for a second and the Instagram community did not disappoint – we got over 1,500 likes on that photo! Here's a screenshot of my top photos by likes over the last 2 years – the number one thing that stands out? Dusty Rose!
2. Dusty Blue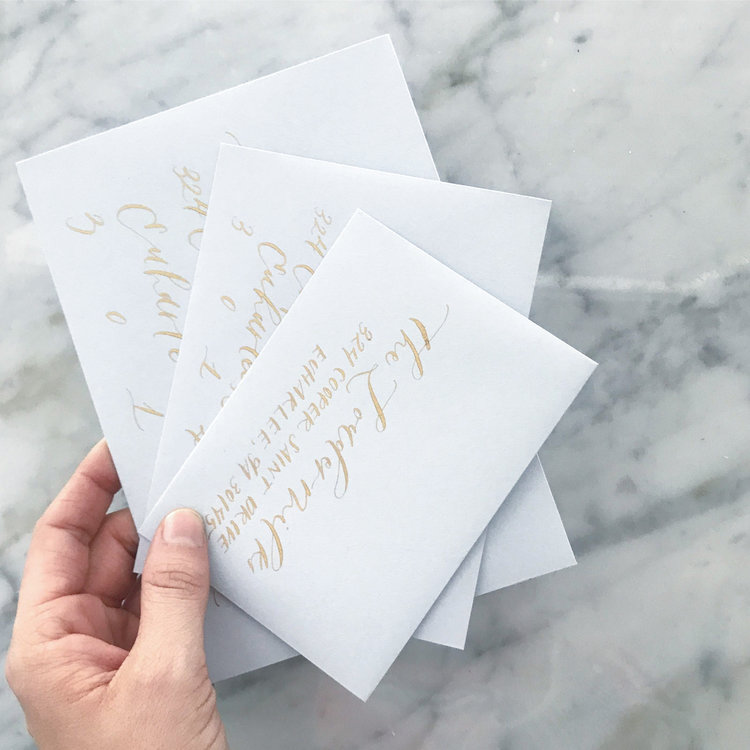 What's silly though, is that I don't actually sell a lot of Dusty Rose. I have only done a couple real orders in it – even though it's popular in styled shoots and on the 'gram. Dusty blue, on the other hand, I can't keep on my shelves (and suppliers have trouble keeping it in stock). I think it would do better than Dusty Rose on Instagram if it photographed better, because it's ultimately more popular, but you do have to scroll a tiny bit to see all the dusty blue start showing up in my most popular list! The dusty blue suites are my most popular that get sent to me for inspiration though.
3. Wax Seals
Everyone loves a good wax seal video! It's weirdly relaxing and stressful at the same time, it that makes any sense? Wax seals are also one of the most common upgrades that clients ask about for their invitations, so it makes sense that they're popular in both arenas. Here's a post all about them if you're not familiar with wax seals.
4. Buncha Envelopes
I wasn't sure what to call this one – but it's this layout where you stack a bunch of pretty envelopes on top of each other and fill the entire square frame. We've got a few popular examples – one from our friend Jenna of I Can Do That Design which are her own incredible wedding invitations! As a bonus, it helps even more if the envelopes are in the #NoMoreBoringEnvelopes category.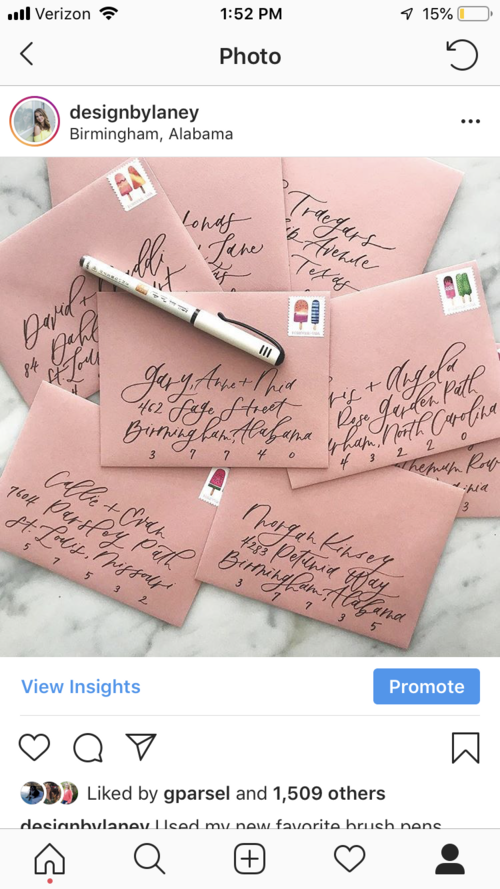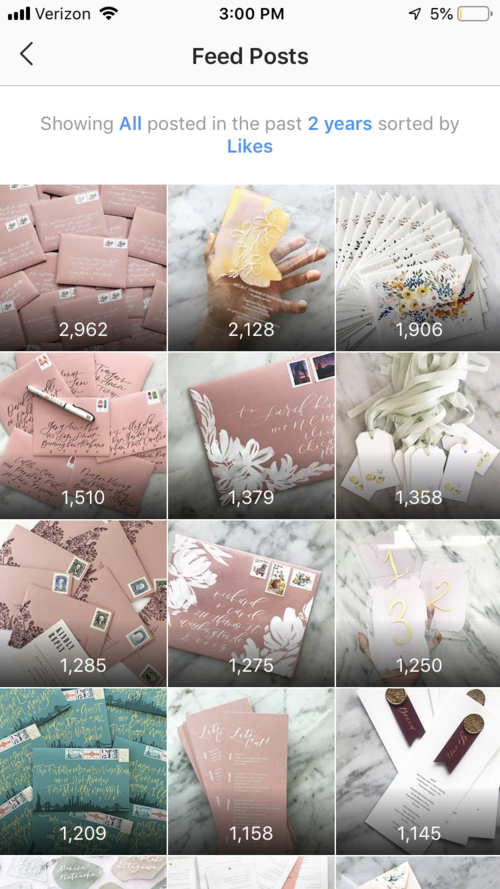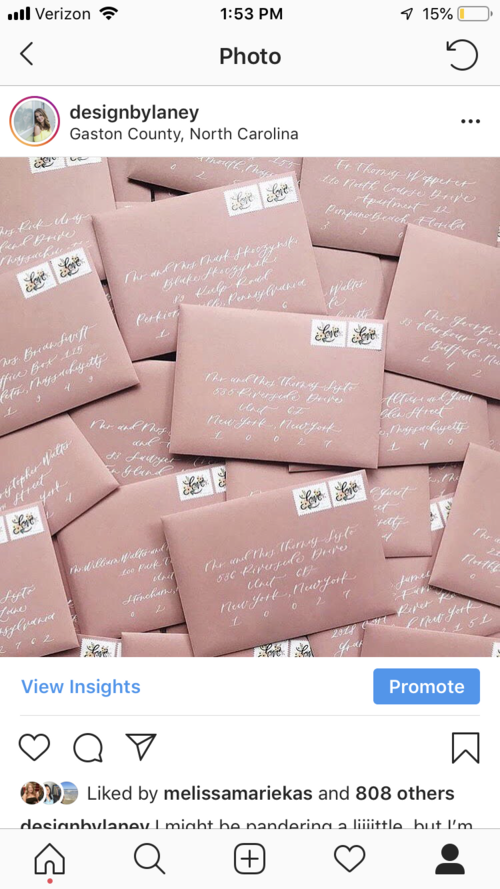 5. Acrylic
Especially painted acrylic. It's cool, unique, and most people haven't seen it done at this point. It's honestly really tough to sell, though, because acrylic invitations are expensive and require special handling. But they attract likes, that's for sure!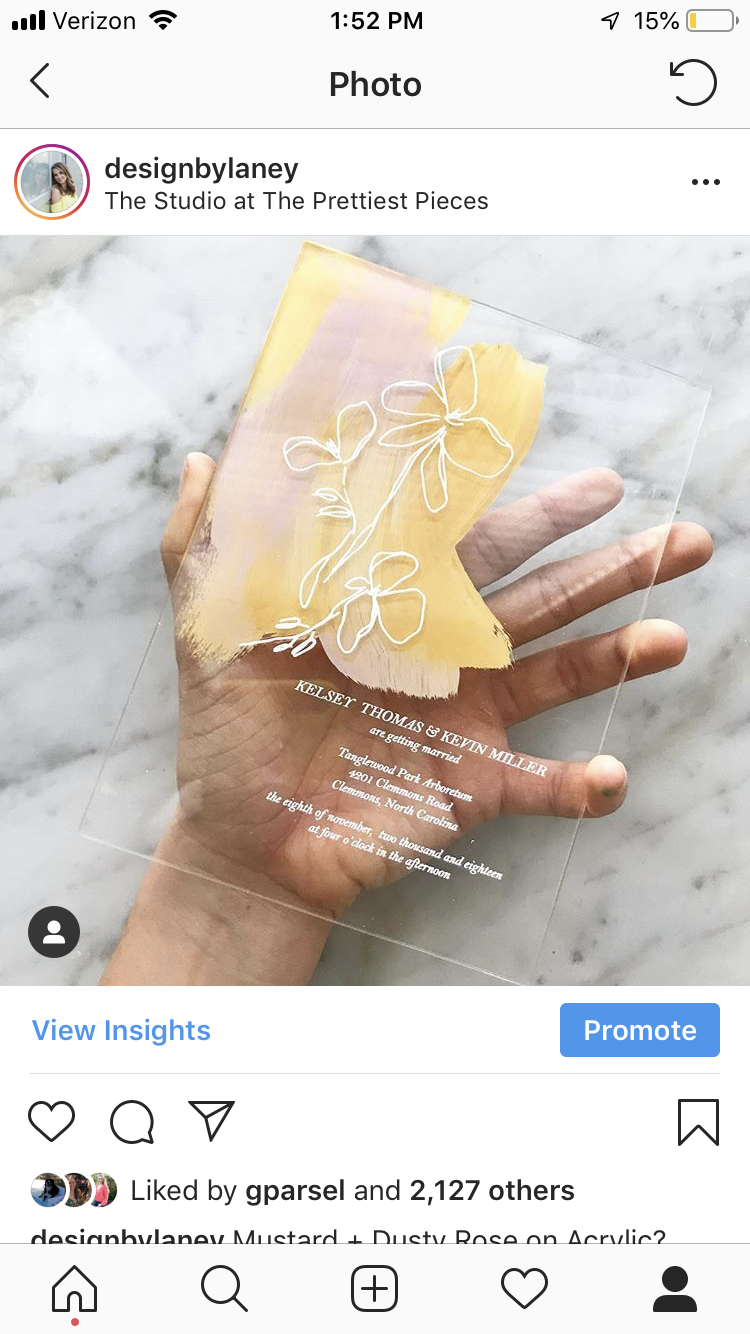 6. Vellum
It's a similar idea to acrylic and is very trendy these days. It's going away a bit in the more trendy areas, but trends trickle to different areas of the market at different times, so there's still a lot of vellum going on, and it sells really well. The best part about vellum is that you can use it in a lot of different ways – as a wrap, a printed piece, a belly band, an overlay, etc. Artisaire actually developed a vellum wax recently!
7. Any Combination of the Above
As a bonus 7th – if you can combine any of the above concepts into one photo, you are golden. The photo that's gotten me the most likes in the last 2 years? Dusty Rose + Buncha Envelopes. Number 2? Acrylic + Dusty Rose. Now I'm over here brainstorming how to combine all 6 of the above into one photo to rule them all….
The important thing to note here is that while these types of photos will get you more likes, engagement, etc. – they don't always lead to more sales unless done correctly. First of all, these types of products have to be something you want to sell. If you never want to sell acrylic invitations, then posting them is a bad strategy, no matter how many new followers it would get you.

Also, like we mentioned, some of these concepts (Dusty Rose) get a lot of engagement, and not much in the way of sales. So it's your job to take that increased engagement and turn it into sales – use call to actions in every post, tag your products, grab your new followers and entice them to get on your email list. Having a million followers without actually converting any of them is worse than having a single follower that buys from you (and it's a whole lot more work!).

For more ways to make actual money from Instagram – check out our YouTube videos 25 Ways to Grow your Instagram Following and How to Use Hashtags to Make Money!